Reading Time:
7
minutes
In October 1958, physicist William Higinbotham created the first video game. The video game was a simple tennis game. Since then, video games have come a long way forward.
We have hyper-realistic games with amazing graphics, engaging storylines, and immersive experiences. We can play games on our smartphones, laptops and computers, AR and VR devices, and dedicated gaming devices like Playstation, Xbox, and Nintendo Switch.
The popularity of games has somewhat skyrocketed because of the pandemic as people looked for avenues to pass their time at home. A study has shown that more than two-thirds of gamers have increased their mobile game playing time. Similarly, games across all platforms have seen a significant rise in the number of players and the average playtime. The growth is expected to continue in the future.

The rise of gaming and its relationship with in-game marketing
From a business perspective, this provides an excellent opportunity to advertise and market their products and services to gamers through in-game marketing. They can develop innovative ways to carry out product placements within the game and showcase them to the huge base of gamers.
In-game marketing is not a new concept. Product placements in-game have been done for a long time now. The most common advertising and product placement types in video games can be seen with vending machines, billboards, and posters. Some games go even a step further. They integrate products right into the gameplay.
For example, if you have played the 2019 PlayStation 4 game, Death Stranding, you know that the protagonist drinks Monster Energy drinks to recharge his stamina.
You can take a look at more examples here.
But why do businesses choose video games for relevant marketing? Let's take a look.

Why choose video games for advertising and marketing purposes?
As mentioned earlier, the gaming industry is growing at an exponential pace. This provides businesses with a huge market without any boundaries to advertise and target their products. Additionally, there are multiple reasons why businesses (and you) need to give some thought to in-game marketing. They are discussed below.
Video games engage people on a high level
It is no secret that video games provide an escape from our real world and immerse us completely in their worlds. Video games are a favorite pastime for people of all ages, demographics, genders, and backgrounds.
Be it simple smartphone games like Candy Crush, Fruit Ninja, or Temple Run, or high-end, sophisticated desktop games like Player Unknown's BattleGrounds, Uncharted, Valorant, or God of War. Each game captivates the players and sucks them completely into it.
Thus, games provide the perfect platform for businesses to market their products as they have the complete attention of the audience.
Games help improve customer loyalty
Gamification marketing techniques for product placement and relevant marketing can help increase player excitement and enhance brand retention. The feeling of competing and winning plays an important role in the gaming world. 
Businesses can partner with game developers to introduce mini-games and formulate other in-game marketing strategies. They can have incentives for winners such as discount coupon codes or other privileges to increase user engagement and maintain customer loyalty.
They provide in-depth insights
Almost every game requires users to fill in their basic details, such as name, age, gender, and location. Moreover, most games also let users connect their social media profiles to the games, providing additional information about the player.
This data can be used for customer profiling and can prove highly beneficial for targeted advertising and relevant marketing purposes.
Similarly, games provide a simplified platform for businesses to track and measure the performance of their in-game marketing campaigns in real time. They can, thus, make adjustments on the go to ensure better ad reachability and returns.

Types of in-game marketing formats you can use
There are various in-game marketing methods to market your products to the target audience. You can choose any relevant marketing and advertising methods, depending upon the game type, marketing strategy, and other factors. Here is a look at eight common types of in-game marketing and advertising.
This advertising method offers in-game bonuses to players that can help advance in the game in exchange for watching a short fifteen or thirty-second ad. These ads can't usually be skipped.
This advertising format is beneficial to players and businesses alike. Players don't have to pay for in-game purchases while businesses get increased exposure, engagement, and attention from the target audience.
Interactive interstitial ads
This advertisement method involves displaying a full-screen ad to an audience that has interactive content. Usually, such advertisements appear between in-game activities.
Users can be prompted to either watch the entire ad, engage with the ad, or skip the ad after the initial duration. A great example of interactive interstitial ads is YouTube ads.
The only downside of using such an in-game marketing method is that it can hamper the user experience, leading to frustration and negative emotions for the brand. Thus, such ads should be used mindfully, sparingly, and non-invasively.
This in-game marketing method involves showcasing your advertisement in the form of a banner, either at the top or bottom of the screen. This is a non-invasive marketing method, and users can continue playing the game while the ad is displayed at the bottom or top.
This method is the best for mobile advertising. The drawback of using display banners for mobile advertising is that they often have low user engagement and generate little to no revenue.
Playable ads prompt users to watch a quick demo of the game they're advertising. Similar to display banners, playable ads are well-suited for mobile advertisements. This advertisement format performs eight times better than interstitial ads.
Offerwalls provide players with in-game rewards for completing specific actions, like installing a game or filling out a survey form. Many game developers and advertisers have done away with offer walls due to their low performance.
This method provides players with unique codes that can be redeemed for prizes and discounts in the real world. This method is best for driving customers to your business website and traditional brick-and-mortar stores.
This advertising technique involves promoting your company's products and services on your network of games and apps. This strategy is great if you have multiple products (including other games) to advertise.
For example, within its games, King has cross-promotional ads for its popular Candy Crush, Farm Heroes Saga, and Pet Rescue Saga.
This in-game marketing method involves product placement embedded directly into the gameplay. For example, you can have an advertisement integrated as hoarding or banner within a sports game.
These ads are non-intrusive and help reach the target audience efficiently and effectively.
Now that you have understood the different types of in-game marketing methods, let's look at the aspects you should focus on to create a successful marketing campaign.
Keys to creating a successful marketing campaign
The success of an in-game marketing campaign depends on applying the best marketing and advertising practices. Here is a look at some crucial factors you should consider.
Selecting the right platform
You must choose a suitable game to advertise your products. The video game needs to be coherent with the target audience, and the ad needs to integrate perfectly with the game.
Targeting the right audience
Every game has a majority of users belonging to a particular demographic. Thus, you need to ensure that your ads reach the intended audience.
Choosing the best ad format
To have maximum user reach, engagement, and returns, you need to choose the best-suited ad format from the ones mentioned above.
Conceiving powerful messages
Your ad needs to have clear, concise, and powerful messaging to compel the user to perform the desired call-to-action. A strong message will also create an excellent experience for the user.
Now, let's get to the main focus of the blog. Why is advertising relevant to in-game marketing? In other words, let's look at the benefits of in-game marketing.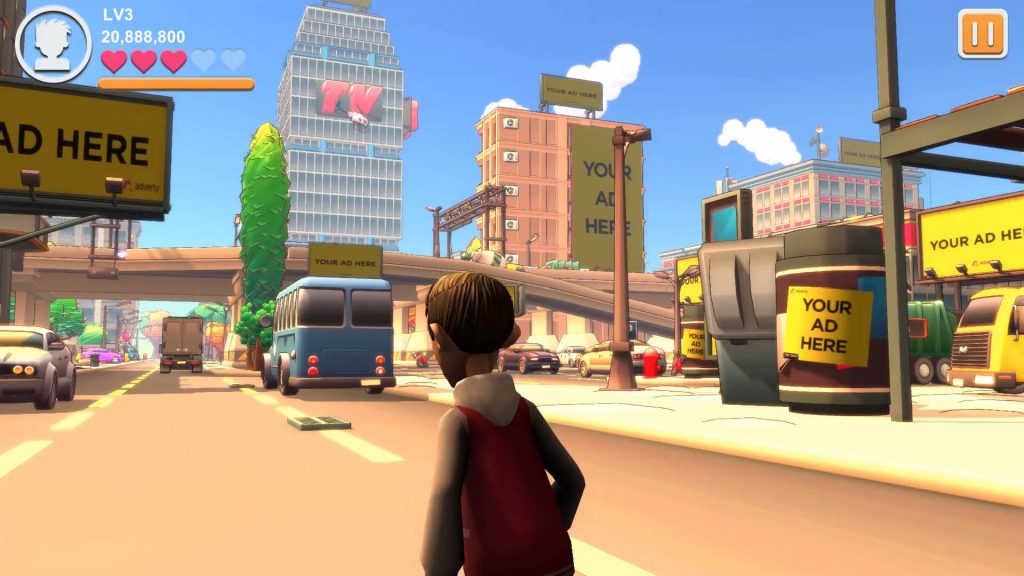 Benefits of in-game marketing
In-game marketing has a lot to offer your business. Some of the key benefits include:
Increase your brand's visibility
There are more than three billion video gamers in the world. Even if we narrow it down by niche and demographics, there is still a broad target audience to whom you can market your products.
Differentiate your business from your competitors
You can create a separate identity for your brand by choosing the right advertising, product placement, and marketing strategy.
In-game marketing helps enhance user engagement rates with call-to-action, gamification, and other interactive marketing techniques.
Collect in-depth customer data
Businesses have access to in-depth customer data that can help them fine-tune their marketing strategies.
Businesses can drive user actions with in-game marketing, leading to product sales and generating substantial revenue.
Conclusion
Advertising in games provides an excellent opportunity for businesses to market their products to a wide target audience. You need to choose the right advertising format and platform that can guarantee the most engagement, interaction, and desired call to action from the user.
This marketing method will skyrocket your visibility, sales, and business growth. There is no reason not to invest in advertising for an in-game marketing strategy.
Tags: Digital Ads, Digital Advertising, Digital Marketing, Digital Marketing Startegy, Game Marketing, In-Game Advertising, In-Game Marketing, Marketing, Mobile Advertising, Profuct Placement, Relevant Marketing