Reading Time:
7
minutes
April is recognized as National Stress Awareness Month. It is observed every April since 1992. Healthcare professionals across the country join hands to raise awareness about stress, the symptoms of stress, its causes, and treatment. It is imperative to reduce stress in our lives. The problem is more significant now since the pandemic has had a huge impact on our lives. Our social life has been disrupted. People have been living with fear and uncertainty. Brands face issues that they never did before the pandemic. 
What is Stress? 
Stress can be defined as mental, emotional, or physical tension. Everyone experiences stress in their lives, and yet, each person experiences stress differently. Stress is a reaction to any situation where a person feels anxious. Apart from disrupting mental health, stress can also cause physical issues such as headaches and stomach disorders. Too much stress can lead to serious health concerns such as stroke and heart disease. 
Common reactions to stress include: 
✅   Sadness, frustration, and helplessness
✅   Disbelief and shock
✅   Headaches, stomach problems, and back pain
✅   Smoking, use of alcohol, and drug abuse
✅   Poor concentration 
Types of stress 
3 different kinds of stress affect people: 
✅  
Acute stress 
Acute stress occurs for a short time when a person is presented with a new challenge. If you have argued with your parents or partner, you may have acute stress due to the negative thoughts about the argument. You may also have acute stress related to a project at work. It can cause elevated blood pressure, heartburn, neck pain, headaches, anxiety, and depression Acute stress is treatable and manageable; however, repeated acute stress can be harmful to your mental and physical health. 
✅  
Episodic acute stress 
Episodic acute stress occurs when people have acute stress frequently. It could happen due to stressing repeatedly over work projects. Episodic acute stress can cause emotional distress, it can disrupt interpersonal relationships, can also cause high blood pressure, rapid heartbeats, and dizziness. 
✅  
Chronic stress 
Chronic stress results due to continued stressors over a long period. Examples of chronic stress include living in a neighborhood that you are not happy with or staying in a bad relationship and constantly fighting with your partner. This type of stress seems unmanageable. It is hard to change or improve the situation that causes this type of stress. Chronic stress arises from poverty, dysfunctional families, violence, and abuse. 
Some chronic stress triggers arise from early childhood experiences of disappointment, abuse, or violence that remain with the person and cause never-ending stress for the individual. A person with chronic stress experiences symptoms such as weight gain, insomnia, panic attack, chronic headaches, and emotional fatigue. Chronic stress becomes habitual in the long run, and most people ignore the signs and symptoms of chronic stress. It builds up over a while to the point of breaking a person's strength and making them vulnerable. It creates a feeling of helplessness, and people do not see hope in their present life or their future pushing them to take extreme actions or harm themselves. 
Treatment for stress 
People experiencing various levels of stress require psychological and medical treatment that includes behavioral and stress management. A consistent negative response to new challenges can have a detrimental effect on your mind and body. Being aware of the way you react to stressors and seeking professional help can assist in reducing your negative feelings, and effects of stress, and helps in managing it effectively.  
If you feel anxious, overwhelmed, or stressed out, consult with a clinical psychologist who can help you learn how you can manage your stress effectively. 
Here are the ways to keep your stress levels in control: 
✅   Exercise: Exercise can help when you feel the symptoms of stress coming on. Going for a walk can help calm you down
✅   Medication for any physical problems due to stress: Stress can cause a range of health problems such as stomach aches, neck pain, heart diseases, or disease related to the nervous system. Medications must be taken to treat these conditions. Apart from that, your doctor may prescribe antidepressants to treat stress
✅   Therapy: Therapy sessions with a psychologist can help you in identifying the causes of stress and these sessions can help you to learn about your thoughts and feelings while you are stressed. Your psychologist can suggest ways to prevent stress
✅   Follow a healthy diet
✅   Practice relaxation techniques such as yoga and meditation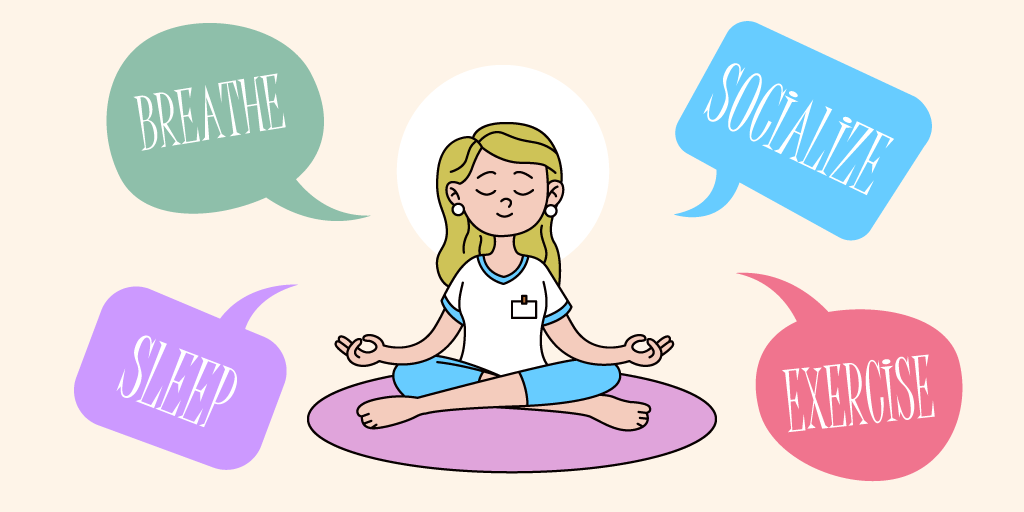 Steps that you can take to prevent stress in your life 
As the saying goes, prevention is better than cure. Here are some ways you can avoid stress and the various complications that come with it: 
✅   Set realistic goals for yourself 
✅   Try not to get upset about relatively insignificant matters 
✅   Accept that you cannot control every situation and learn to let go of situations you cannot change
✅   Say 'no' to additional responsibilities when you are busy or stressed 
✅   Practice yoga and perform breathing exercises 
✅   Spend some quality time with your friends and family 
✅   Make time for things that you enjoy or to build your hobby
✅   Reduce alcohol and caffeine intake 
✅   Have a positive outlook on life 
✅   Connect with people who keep you calm and provide emotional support 

Effect of the pandemic on brands
Brands have also come under a lot of pressure during the global pandemic situation. 
With sales hitting rock bottom levels due to continuous and intermittent lockdowns brands must devise new strategies to market their products to their customers. The challenges that brands face today are: : 
✅  
The shift to online platforms
Businesses must be prepared to reduce their physical footprint and increase their business online. Brands must prepare for a complete digital transformation and determine creative ways to stand out. 
✅   Work location 
Companies must be prepared to offer remote workplaces and incorporate hybrid models to retain talent. 
✅   Video Marketing
People are accustomed to staying indoors since the pandemic. Due to this, streaming services such as Netflix have seen increased demand. This trend will continue even post the pandemic. Brands must pay attention to video marketing, and they should partner with video streaming services to promote their products. 
✅   Post-pandemic research 
The attitude of customers towards brands could have changed after the pandemic. It is essential to analyze customer preferences with the help of surveys and other marketing tools to understand how your consumers perceive your brand and devise new marketing strategies. 
✅  
Workforce Inequality 
The pandemic has increased workforce inequality. As it has been difficult for women to handle child care and career, many have dropped out of work. Brands should focus on workforce equality in their offices. Brands must also include people with gaps in employment to promote the message that their company cares about their employees. This promotes a positive brand image. 
✅  
Employee Training
Brands must focus on upskilling their employees and provide them with the knowledge and tools to be successful in their current and future roles. 
✅  
Empathy 
Any crisis can lead to negative feelings such as distrust and helplessness. People have been experiencing high levels of stress since the pandemic. Companies must be empathetic and caring towards their employees. Brands must focus on re-establishing their customers' trust.
✅  
Health and wellness of employees and customers 
The pandemic has affected both physical and mental health in people. Companies must begin to address health and wellness concerns in people. Brands should focus on building trust by taking practical measures to address their customers' health concerns and mental well-being. 
Challenges
The new challenges that marketers face are: 
✅   Identifying the customers' needs: Customer needs and preferences have changed during the pandemic, and it is important to gather information about their needs and design new marketing strategies. 
✅   Building loyal customers: Post the pandemic, the customer's attitudes toward the brand might have altered. Brands need to be empathetic to those impacted by the pandemic and build customer loyalty. 
✅   Determining the right channel for communication: The channels that worked before may not be efficient in the present situation. Hence, brands must figure out the correct channel to market their new campaigns. 
✅   Using the right platform for lead generation: 
With altered customer preferences, it is crucial to get to the platform that the customers engage most post the pandemic for lead generation. 
✅   Improving customer experience: Marketers must work towards improving customer engagement and experience to rebuild their brand.
✅   Brand advertising within minimum budgets: The economic crisis has led to lower budgets for advertising. Brands must work with low budgets to create advertisements and brand endorsements. 
✅   Brands must draft new strategies for personalization to enhance brand perception: Personalization is a key aspect of brand building. Brands must focus on creating meaningful landing and thank you pages. Brands must focus on creating tailored messages for a customer's specific interest and action. 
The pandemic has affected many people. Brands should come together to support those affected. It has also elevated stress levels in employees and customers. Brands should promote positivity to align with their customers' concerns.
Tags: brand stress, branding, Marketing, Social Media, stress management