Reading Time:
7
minutes
If you are an analyst or marketer responsible for business growth and engagement, this article is an asset for you!
As the marketing industry and tactics constantly evolve, it becomes vital for marketers to keep up with the trends in marketing. Quite conveniently, there are umpteen tools that help social media analysts reach their targets, increase conversion rate, plan campaigns based on data, and identify appropriate channels to advertise a business or product while simultaneously ensuring that audiences are engaging with the content. 
These 15 analytical tools are a gateway to making informed decisions based on better, practical, and reflective data. Irrespective of whether you are looking for tools to measure data for a single business or an all-purpose analytics solution, these analytical tools are here for your benefit.
TapInfluence
TapInfluence is tailored for influencer-specific marketing and campaigning space. It offers highly advanced campaigning tools to marketers with the benefit of complete scheduling and publishing tools to automate campaigns, open bidding, in-platform communication, Verification, CRM. With this tool, discover influencers with keyword search, audience data & insights, visual search. TapInfluence measures API, Click traffic tracking, campaign and project performance, and exportable reports. It also includes an add-on feature, i.e., TapFire, which automates content amplification.
Likealyzer
Likealyzer is a tool that performs analytics for Facebook and gathers complete page statistics. It gives the marketer suggestions on how one can boost engagement and reach more audiences. Explore the possibilities of your Facebook page by evaluating your activity to monitor, compare, improve and ensure success in social media campaigns. With Likealyzer, you also get an in-depth comparison of Facebook pages that resemble yours. It is a free analytical tool that can benefit beginners and professional marketers all the same.
Snaplytics
Snaplytics is a leading analytical tool that focuses exclusively on Snapchat and Instagram stories. With Snaplytics, a marketer can schedule publishing stories, measure audience engagement, manage multiple accounts, detect drops & spikes in conversion rates, create compelling, creative stories and story ads that can move beyond native analytics. The key features of Snaplytics enable users to track audience behavior, take screenshots to use them for comparison with the industry-specific benchmarks, content management, easily customizable reports, real-time analytics, performance metrics, monitoring social media, social media performance, and trend analysis. With the auto-forward feature, teams can post stories from multiple sources.
Curalate
Curalate is a business and selling-centric tool which allows the audience to shop directly from social media websites such as Instagram. You must have noticed a link at the end of a bio of businesses. These links take the audience directly to the product page, from where a consumer can purchase the desired product hassle-free. This also allows the company and the marketer to clarify which product is catching the most attention, which product is selling, which has the most clicks, etc. Curalate analyzes user-generated content, tracks social media mentions and product tags, etc.
Tailwind
Tailwind is a Pinterest and Instagram analytics tool. It enables a marketer to upload and schedule publishing multiple posts over several days. It is a desirable tool for bloggers as well as eCommerce brands and businesses of all shapes and sizes. With Tailwind as your analytics tool, schedule posts, create pins at lightning speed, monitor conversation threads, amplify reach & engagement, and measure achieved results.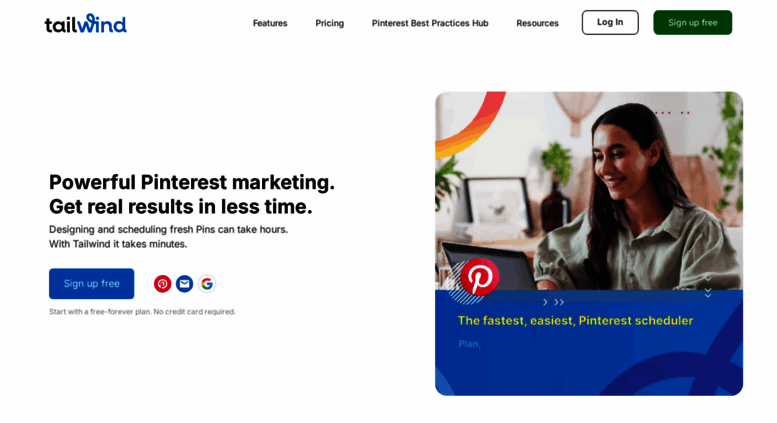 Klear
Klear is a prominent influencer analytics platform that offers campaign management too. Powered by an accredited AI algorithm, it helps users identify the highest level of influence with advanced filters such as influencer tier, audience demographics, niche topics and ensure you partner with influencers who drive the most impact. Other attractive features of Klear include in-depth keyword search, follower growth, platform-specific engagement tools, learning about audience interests, monitoring hashtags, content, and more.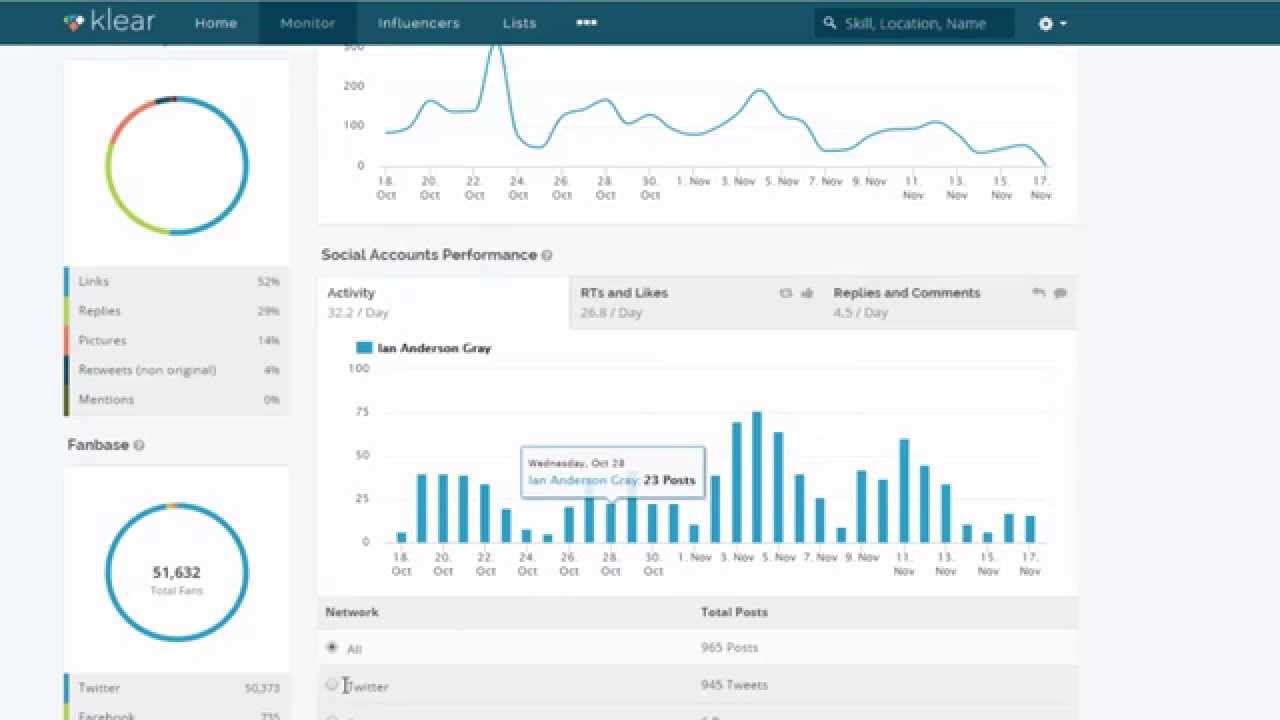 ShortStack
From hashtag contests to giveaways, ShortStack has got you covered! A social analytics tool analyzes engagement data with the content and identifies which content better suits a particular target audience. ShortStack gathers entry data as well as long-term campaigns to ensure the winner of contests is chosen from engagement analysis from the giveaway campaign. Plan, design, analyze, and evaluate social campaigns in real-time. Data protection, handling thousands of engagements in one place, measuring views & unique views, identifying traffic sources, trends in content, number of shares, number of clicks – ShortStack doesn't miss out on a single factor that can make your social campaigns better and more effective.
SHIELD App
A user-friendly analytics tool for LinkedIn, ShieldApp enables businesses and users to monitor performance and social KPIs as well as generate metrics reports instantly. ShieldApp focuses on empowering businesses on social platforms such as LinkedIn, with a data-driven approach to boost the organic growth of companies. It focuses on the businesses and, at the same time, shows the engagement and development of a company's employees profile. ShieldApp promotes social selling, leadership, decision-making based on metrics, drives engagement, and eliminates manual data collection.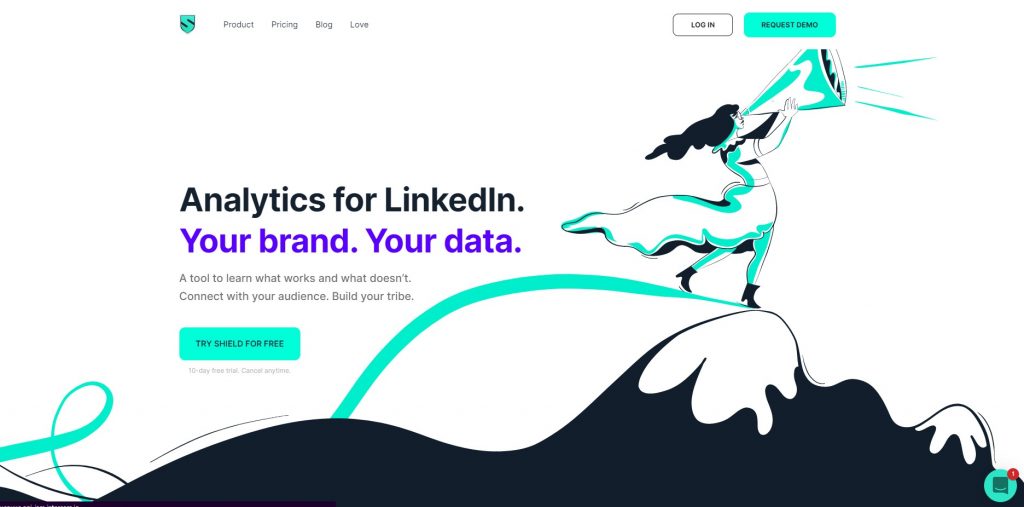 Rival IQ
This sophisticated analytics tool enables marketers to make informed decisions based on real-time metrics, improve campaigns for better results, and closely understand their competitors to stay one step ahead of them. With Rival IQ, data reports can be shared with clients in the form of presentations, graphs, customizable slideshows, etc., or by simply creating a portal for clients to log in. With the engagement tool, track and observe real-time engagement of your brand and your competitors. Manage meta-tagging, GA reporting, insights from multiple platforms such as Facebook, Instagram, LinkedIn, and Twitter.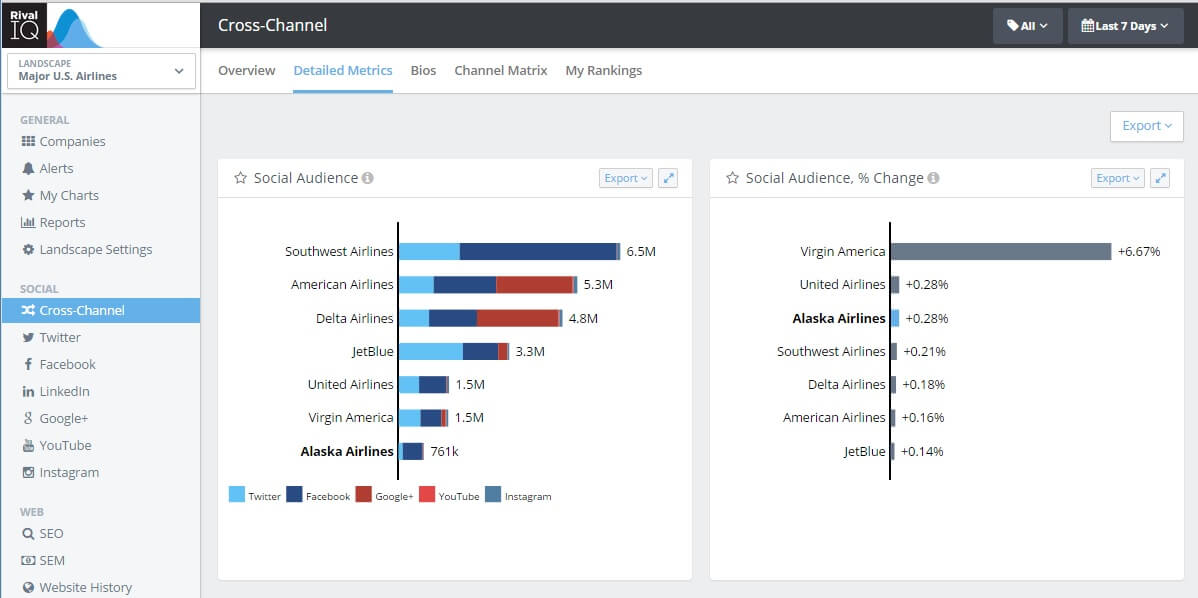 Social Report
This tool is a dream come true for every social media manager out there! Social Report tool comes with analytics, scheduling, smart inbox, monitoring, integration, presentation-ready custom reports, team tools, and live support features. Whether a local business or a well-established brand, this tool is ideal for all kinds of business. It incorporates solid analytics from multiple social media platforms in its dashboard, schedules social media posts, and monitors real-time metrics and network performance.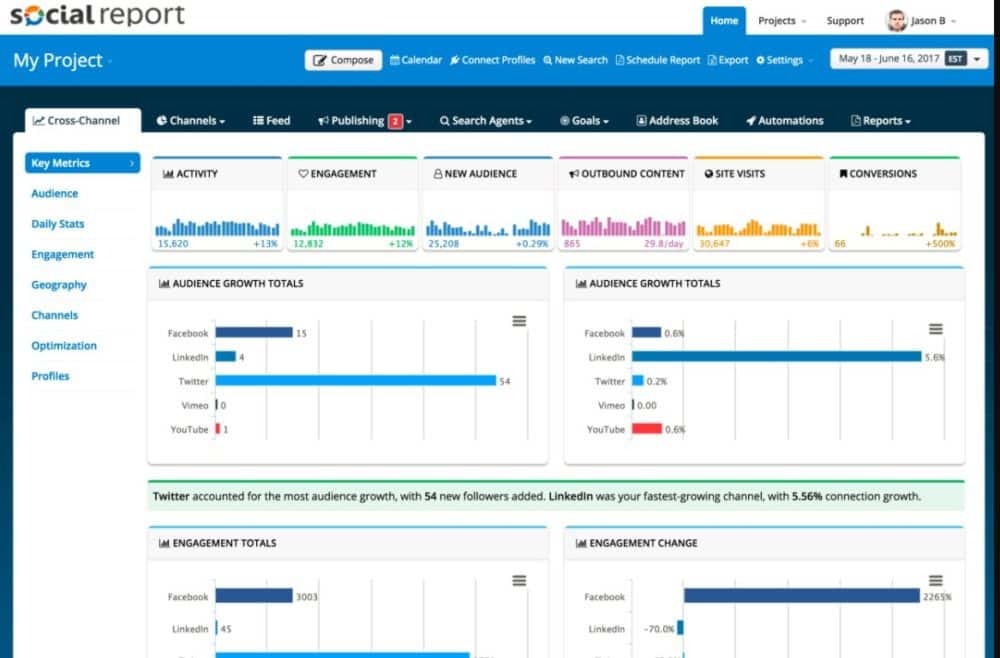 Union Metrics
Union Metrics tool is designed specially in mind marketing and PR professionals. It is a social listening and profile analytics tool that allows marketers better insights and comprehensive analytics about the published content to drive engagement and create improved and result-fetching content. It supports real-time metrics for Facebook, Instagram, Tumblr, and Twitter. With concentrated real-time metrics, increase the conversion rate on multiple social platforms, boost engagement with the published content, explore the trends in content and make decisions based on well-informed collected data.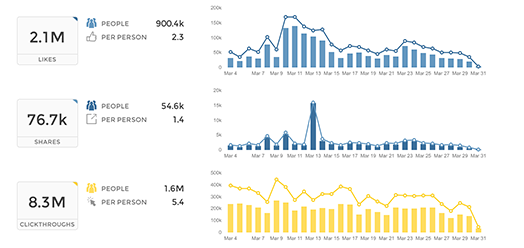 Quintly
Quintly is a dedicated social media analytics tool that tracks, gathers, evaluates, and optimizes social media strategy and campaigns. Gain real-time insights fast with Quintly analytics, arrange social media KPI on dashboards, recognize the position of a business with competition benchmarking, and become empowered by making your social media campaigning a success.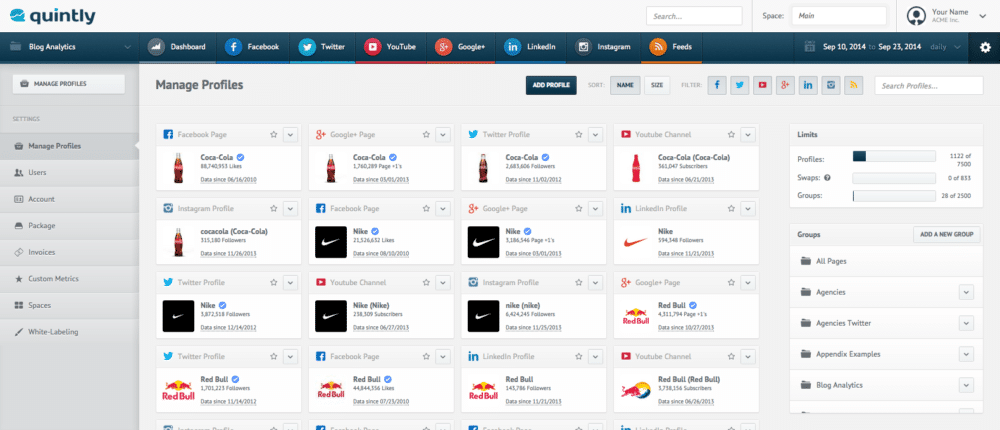 Followerwonk
With Followewonk, keep track and sort your followers, your competitor's followers, sort and analyze audience behavior to gain a sounder understanding, and make versed decisions. Followerwonk is a social media analytics tool that finds, analyses, and helps optimize your activities to match the gains and losses in the number of followers on Twitter.
SparkToro
Sparktoro is a sophisticated analytics tool that aggregates various websites and social media accounts into distinct profiles and enables the marketer to browse it all with a single click. It enables them to conduct thorough searches for websites, social accounts, YouTube, podcasts, trending content, audience insights, and more. 
Konnect Insights is an advanced and user-friendly analytics tool that empowers decision-making with data intelligence. It collects data from multiple platforms – WhatsApp, Instagram, Google Analytics, App stores, YouTube, LinkedIn, Twitter, etc. – and displays it on organized and dynamic dashboards, letting the marketer view, manage, and share reports effortlessly. With Konnect Insights, a marketer can understand and engage with the audience, increase the reach and visibility of a business, and study Trends Insights, Campaign Insights, Competitor's Analytics, and Fluid Charts swiftly and smoothly.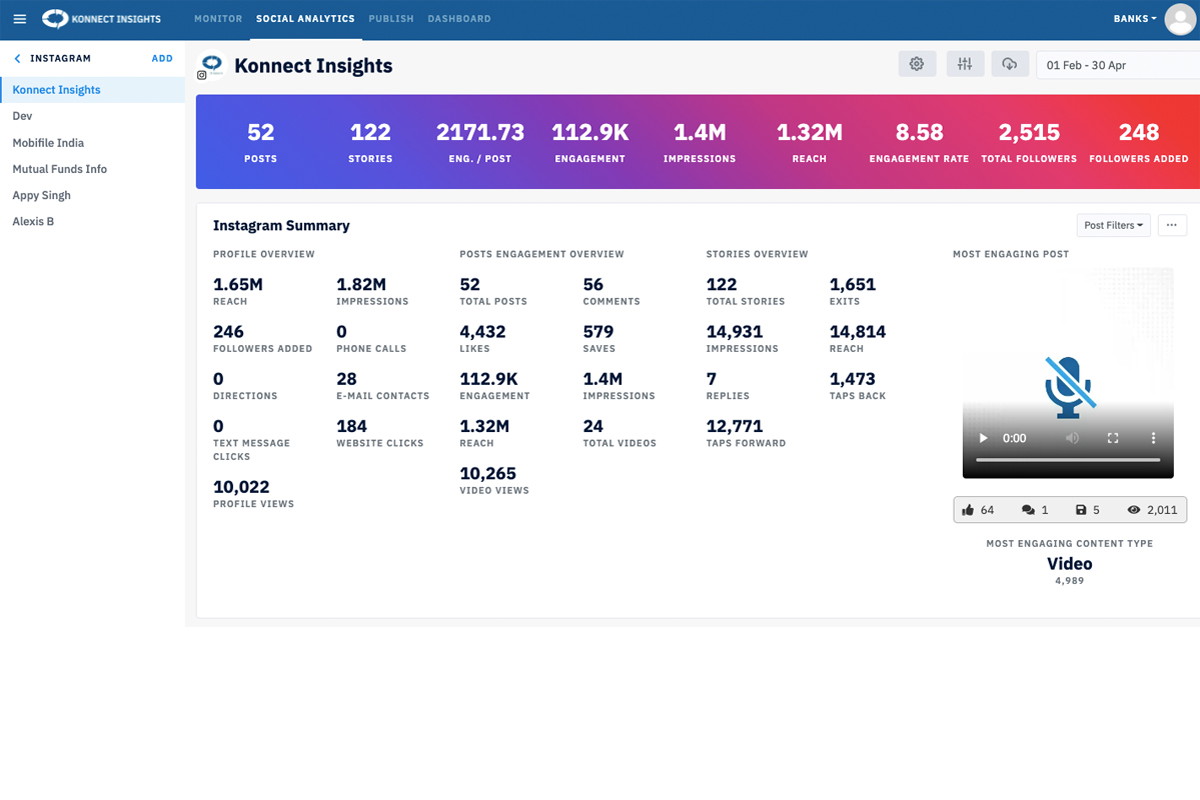 Why are analytics tools vital to accomplish goals through social media?
The roadmap to running a successful campaign lies in data. 
Thus, the power of analytics tools has emerged as a significant driving force in the marketing industry. To be at the top of the competition, a marketer needs to be well-versed in analytics and the tools required to understand audience content consumption. Marketers should run data-driven campaigns, achieve positive ROIs, curate effective and engaging social marketing campaigns, gather and evaluate data collected from tools, and use the gathered information effectively to grow a brand. 
Tags: Analytics Tool 2022, Analytics Tools 2022, Social Analytics Tool 2022, Social Analytics Tools 2022, Social Media Analytic Tool 2022, Social Media Analytic Tools 2022