Reading Time:
7
minutes
Gen Z, born between 1995 and 2010, is the first generation to come of age in a world where freelance work is a viable option. According to data from UpWork, a freelancing website, over 50% of Gen Z members have freelanced in some form, compared to 36% of millennials and just 11% of Baby Boomers. The report surveyed 6,000 US freelancers and found that Gen Zers have been freelancing more than any other generation. While Baby Boomers account for the majority of the nation's contingent workforce, Gen Zers are freelancing at twice the rate of Boomers.
The new study by Upwork and Freelancers Union says that Gen Z is the most likely generation to freelance. So, is freelancing the new norm? What's driving this shift in how work gets done?
Why are Gen Zers turning towards freelancing?
Most of the youngest segment of today's adult workforce was born between 1997 and 2000. And it has been noticed that they are more inclined to do freelance work than ever before.
According to the research, almost half (46%) of Gen Zers have freelanced in the last year. 73% of these freelancers have said they are doing it by choice rather than any compulsion. Most of the Gen Z population entering the workforce want to break the regular norm. They do not want to work in the regular 9 to 5 roles. They want more freedom in their lifestyle, the ability to travel more and to meet new people. 
That's why freelancing appears more exciting and full of opportunities. Gen Zers are also more about working with passion and finding more fulfilling roles. The best young talent wants more flexibility in their lifestyle. They want roles that are challenging but, at the same time, offer avenues for growth and a rewarding lifestyle.
Therefore, we can understand that freelancing is most rewarding for Gen Z peeps who want non-traditional roles. It is also an excellent choice for those who want to pursue unconventional and creative roles. Freelancing gives more opportunities for people to push their creativity. It also gives them the liberty to work from anywhere, which is a great choice for digital nomads.
Key takeaways from the new data reveal:
The elaborate study has shed light on numerous facts. Let's look at some of the most important reveals.
✅   46% of the Gen Z population did freelancing work in the previous 12 months of the survey. It means almost half of Gen Z are well acquainted with freelancing—more than the millennials or the boomers.
✅   Gen Z is freelancing by choice, not out of compulsion. 73% of Gen Zers said they are freelancing by choice compared to 66% of Baby Boomers and 64% of Millennials.
✅   Gen Z is least concerned about the impact of automation. Less than one-third (31%) of Gen Zers have said that they are worried about automation. This is quite in contrast with Millennials, who at 44% are very concerned that automation can take their jobs.
✅   The Gen Z population strongly feels that better technology can help them access freelance work more quickly. Location flexibility is quite important to 74% of the survey takers. While 39% of the freelancers work while traveling to different places, 41% chose to work in settings around people. A good internet connection is quite important to get a steady flow of work.
✅   Gen Z is the most prepared for the future of work. 58% of the survey takers have taken upskilling courses to actively prepare for the future. In comparison, 56% of Millennials and 35% of Gen X have participated in skill-related education in the last six months of the survey.
This suggests that Gen Z is more comfortable with the idea of working for themselves and that freelance work is becoming increasingly mainstream. So what's driving this trend?
Is freelancing the future of work?
As the younger generation is turning towards freelancing, one can say that it is a sign of the future of work. According to Business Today, freelancers account for one-third of the global workforce. In 2019, it was 1.1 billion, and the number doubled in 2020.
The pandemic and the quarantine lifestyle further boosted the gig economy, and more people have started freelancing than ever before. The freelance community has become stronger and steadier with the emergence of smart technology, with 24×7-connection and the expansion of the internet to multiple new locations.
Let's look at some of the top benefits of freelancing for Gen Z and other generations.
1️⃣   Freelancing allows you to work from home and manage a work-life balance. The 9 to 5 routine has, reportedly, negatively impacted workers' personal lives for Millennials and Baby Boomers. With freelancing, parents can work from home and spend more time with their kids.
2️⃣   Freelancers can choose their choice of projects and set their own deadlines. There is a variety of work available from across the world on freelance platforms like UpWork, Fiverr, and more. 
3️⃣   Freelancing offers more growth opportunities than full-time office roles. This is because freelancers can work with many different people and brands. It helps expand their portfolio and nurture their interpersonal skills. You get to know many aspects of work and financial management better than in full-time jobs.
4️⃣   Freelancing gives you the opportunity to travel the world while working. This is the biggest benefit of the gig economy. Freelancers have the world on their plate as long as they have a good Wi-Fi connection and a laptop. Work from anywhere over phone calls and Zoom meetings while easily changing landscapes.
5️⃣   Freelancing is giving everyone a new sense of opportunity. Whether you want to stay home and be with your kids or explore different places in the world, freelancing gives you the luxury to do what you want!
Challenges of the freelance economy
While there are plenty of benefits to freelancing full-time, there are also challenges that have come forward.
✅   New-time freelancers may struggle to find their place in the gig economy. Hence, initial projects would involve much less income and more challenging work hours.
✅   Time management is crucial for freelancers. As much as you want to manage work from home, it's important to prioritize the time and form your own routine. While there is no set demarcation in work hours, it's important to set work schedules, sleep, eating, and socializing.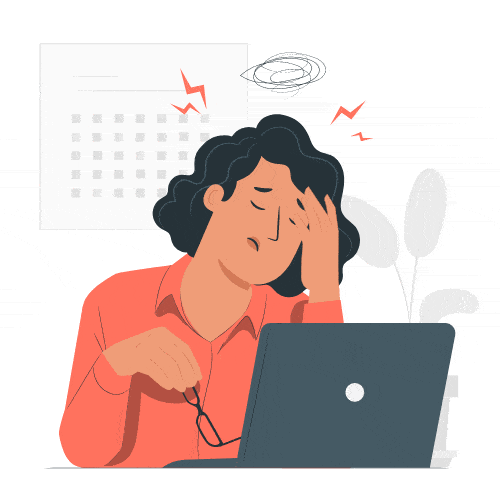 ✅   Working from home can be difficult for young freelancers. The pandemic routine was quite difficult to keep up with because of the lack of social circles and too much screen time. Freelancers must take the time to spend time with friends and not get carried away in the hustle culture. 
✅   Labor reforms are yet to take place in several countries to acknowledge freelance work. With new labor laws, the freelance economy can rise to new heights of glory.
How can modern jobs adapt to the new Gen Z demands?
Now that we have seen the powers of freelancing for Gen Z and previous generations as well, it's time for a work revolution. The pandemic did cause a great change in how we look at work and personal time. It also gave a big boost to freelancers. But what can modern jobs do to attract fresh talent?
For starters, they must offer a flexible schedule that will allow for a healthy work-life balance. A hybrid work system between the office and home can work for several industries. They should provide freedom to the employees so that they can have enough time to travel and pursue their hobbies. Upskilling opportunities can be offered to give more growth to employees. 
Large-scale companies have also started to open gigs for freelancers. The gig model can work effectively for companies looking for creative talent. At the same time, it helps them save resources and money while still getting valuable work. It is easier to scale operations as remote working opens up many opportunities. One may not need to stay in one place to achieve objectives anymore. The gig economy works on task-based performance and promises more value to all parties involved. 
Conclusion
The world of freelancing is rapidly expanding, and it's only natural that the latest generation will reap the benefits of it. Gen Z is, after all, the first generation to come of age while freelancing is recognized as a legit job. The gig economy is set for more massive growth in the coming few years, and no one should miss this party.
Several online platforms offer freelance roles. You can easily create your profile and add your portfolio to be able to receive work assignments.  There was a time when freelancing was tough. It was hard to get gigs and even more difficult to get payments on time. But with modern technology, it's far easier to get more work and get a steady income through freelancing. With the expanding community and freelance platforms, freelancers also have simplified payments. 
With streamlined processes and payments, freelancers feel more empowered and fearless to do the things they love. This is the time to invest your energy in what really matters!
Tags: branding, freelance, freelancing, Gen Z, Marketing, Strategy, workfromanywhere, workfromhome