Reading Time:
5
minutes
If you are a digital marketer, you know the biggest challenge you face is analytics. Measuring the impact of the myriad marketing activities that digital marketing entails can be difficult, but with the right analytics tools, it can be made much simpler. The tools that measure data from several different touch points include:
Website visitor information


Customer event (such as click, hover or views) and touch-point data

Paid campaigns (Advertising/email) performance data

Customer purchase and shopping data

Email marketing data

Page views, Time spent on page and several other metrics to evaluate user interest
These metrics are critical to determining answers to questions such as what content works and what doesn't, what products are popular and what products are customers adding to the cart but not purchasing (buying process abandonment issues).
Tool Listing
Cyfe is one of the more versatile tools in this listing. Instead of marketing analytics, Cyfe describes itself as more of a business intelligence tool, enabling both pre-built and custom dashboards and analytics widgets for marketing, social media, web analytics, HR onboarding, email marketing and several others.
A top-rated solution on multiple review sites, one of the challenges with Cyfe is the limited number of purpose-built marketing analytics modules and the need to build integrations from scratch to put together a comprehensive platform. A few other differentiating features include the ability to embed analytics as a white-label solution within dashboards, integrations with multiple data sources, data archival capabilities, and good features for KPI ( key performance indicators) tracking. Cyfe offers a free trial for evaluation, but their knowledge base is sketchy.
Heap touts itself as the one-stop shop for digital marketing analytics. Their key capability is to delve deep into customer data and deliver insights that you may be missing from traditionally tracked metrics. Heap Analytics offers a comprehensive suite of tools with multiple options based on need, including an ETL platform. The core Heap Insights package delivers a complete set of capabilities focused on web analytics. However, it is light on other digital marketing requirements such as social media. The UI is very friendly and successfully handholds the user through the various features.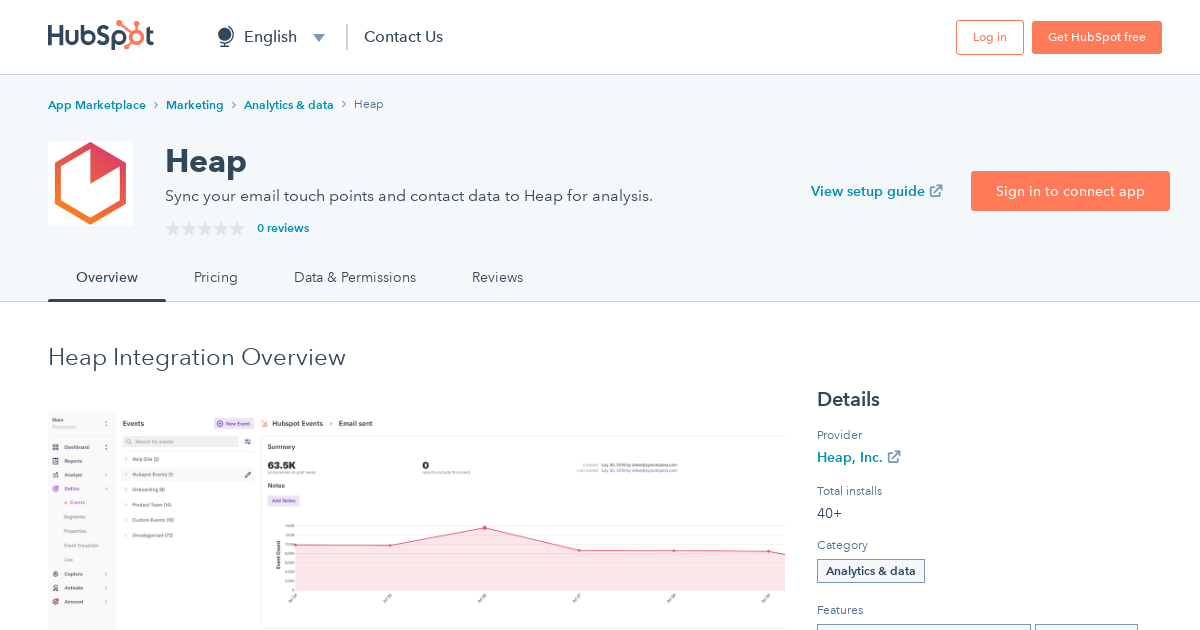 Heap also has extensive documentation and a set of tools called 'playbooks' that can help new organizations get up and running on the platform quickly. Heap also supports additional features such as automatic data retrieval and pre-built connectors into other tools.
Klipfolio's core product, PowerMetrics, has one key benefit – users can start for free. The free plan also offers unlimited dashboards, 2 user accounts and a 2-month review window, making it possible for smaller enterprises to use the tool without ever paying. The platform provides many features – custom dashboards, multiple pre-built connectors, no code deployments, and multiple data source support. Limitations, such as data source size limits, limited customizability, and a complicated role management system, can limit the platform's usability.
Konnect Insights provides a single, unified view as an omni-channel customer experience suite tailor-made for all marketing analytics. Built to purpose, the software focuses on not just analytics, but developing insights that help build a stronger brand identity and community.  With over 3000 app integrations, it provides the ability to read data and derive insights from a multitude of social, web and even mobile channels such as SMS. It also supports third-party API sources, making the platform a comprehensive analytics solution that can integrate with the entire marketing ecosystem. Konnect Insights also provides a lot of flexibility with dashboard design and development, and one of the key differentiators is the in-depth built-in reporting across social channels. The tool works well out-of-the-box but offers a wealth of customization options as well. 
Konnect Insights supports the entire digital marketing lifecycle – from listening and CRM to analytics and response. In short, it is a comprehensive platform for analytics that would be a great end-to-end option.
Optimizely is a digital experience platform that focuses on providing a framework to develop an online presence instead of focusing on analytics. The analytics are very focused on the platform itself, with few integration options, thus limiting the ability to integrate with currently existing digital marketing tools. The platform allows for cases such as e-commerce, B2B selling and media management – with tools specific to such requirements, such as catalog and pricing management. As a pure-play digital marketing analytics platform, Optimizely may not be the best solution.
Oribi is a dedicated marketing analytics platform that claims to take actionable insights with very little custom work. The platform provides web and social analytics in one solution, but it has very limited help guidelines or free functionality. Most of the information about the Oribi platform is gated. Access to the website is initiated through a set of questions, which seeks to provide a customized experience, but is inflexible when utilizing capabilities overlap roles.
Piwik is a highly customizable, visually appealing analytics platform that provides a range of capabilities beyond digital marketing analytics, extending to product management, SharePoint and privacy compliance. Piwik also includes a free core plan that allows users to test-drive the platform. Its functionalities are split into different modules that need to be purchased separately – so the experience may not be complete unless you subscribe to all modules.
Piwik provides a large set of dashboards customized to various use cases and allows further customization of the dashboards.
SEMrush is a multi-tool, multi-capability platform that provides a plethora of tools for analytics. With over 50+ tools on the platform, SEMrush provides several options for digital marketers with analytics. It can be challenging to put together the right solution according to your needs. The tools are organized into toolsets categorized by needs, but evaluating all of them might be necessary to get all the required functionality put together.
This list includes most of the key analytics tools in use today. Konnect Insights, however, stands out with its capabilities for enabling efficient digital marketing. The Konnect Insights platform not only includes out of the box capabilities that enable instant results, but it also provides a wealth of functionality across social media, content and advertising analytics. It would make a great choice as a one-stop solution for digital marketing analytics.
Tags: Analytic Tool, Analytics Tool, Analytics Tool 2022, Analytics Tools 2022, Data Analytics, Digital Marketing Trends, Marketing Analytics Tool, Marketing Analytics Tool 2022, Marketing Analytics Tools, Marketing Analytics Tools 2022