Reading Time:
5
minutes
There is a frenzy that comes with festivities, and this is an excellent opportunity to promote and market your goods. However, there are some tricks that every business needs to know about to capture buyer attention. Remember, most buyers have been saving their money for the festive season, and you do not want them to pass by. Having a marketing strategy will position your brand in a better place to capture the attention of the buyers.
This article will guide you on enhancing your marketing strategy during Christmas and the New Year festivities. It is a season of caring for loved ones and sharing with them. Your marketing has to be made fun to switch people into the festive mood. Maximizing available marketing opportunities can help your business enhance its presence and bring potential clients your way.
Here are some tips on festive marketing
1. Start Early
To enhance festive marketing, avoid the last-minute rush. Instead, focus on creating a good marketing strategy long before the festivities hit the market. After all, they say an early bird catches the worm.
Some advantages you will get from using social media tools that will help you start your festive marketing early include:
Receiving feedback from multichannel

Running your market surveys early and knowing your customers' expectations as the festivities draw near
You can start early by collecting data from every customer's social media platform. Take advantage of the social listening tools on the platform to listen to your customers. The tool can help you monitor your customers and competitors, gather data, and analyze it which will provide you actionable insights.
2. Analyze
Analyzing customer trends is very essential for your business or brand. A listening tool comes in handy when analyzing your or your competitor's social media activities. 
You can enhance your festive marketing by:
Using social media tools that have beautiful dashboards and an easy-to-use interface. You do not need technical skills to use the platform.
Monitor consumer behaviors around festivities, helping you know what you ought to supply. For example, you get to know which are the latest fashion trends.
Gaining insights into the competition, you are likely to face. You get to know the other businesses in the same industry and what they offer. This is an opportunity to learn from them and identify the gaps you can fill in the market.
Knowing how your brand is performing in the market and what areas you should improve. For example, you may need to put more resources on brand awareness in the marketing strategy or increase your stock for a given good that you offer.
3. Publish
Social marketing tools also offer you an excellent opportunity to publish your adverts and content. Customize and personalize your content to meet your customer needs. Every festive season has its theme. For instance, the Christmas season is known for its white, red, green, and gold colors. As you build your content for the festive season, you have to align it with the theme of the season so that people can have a glimpse of your intended message at a glance.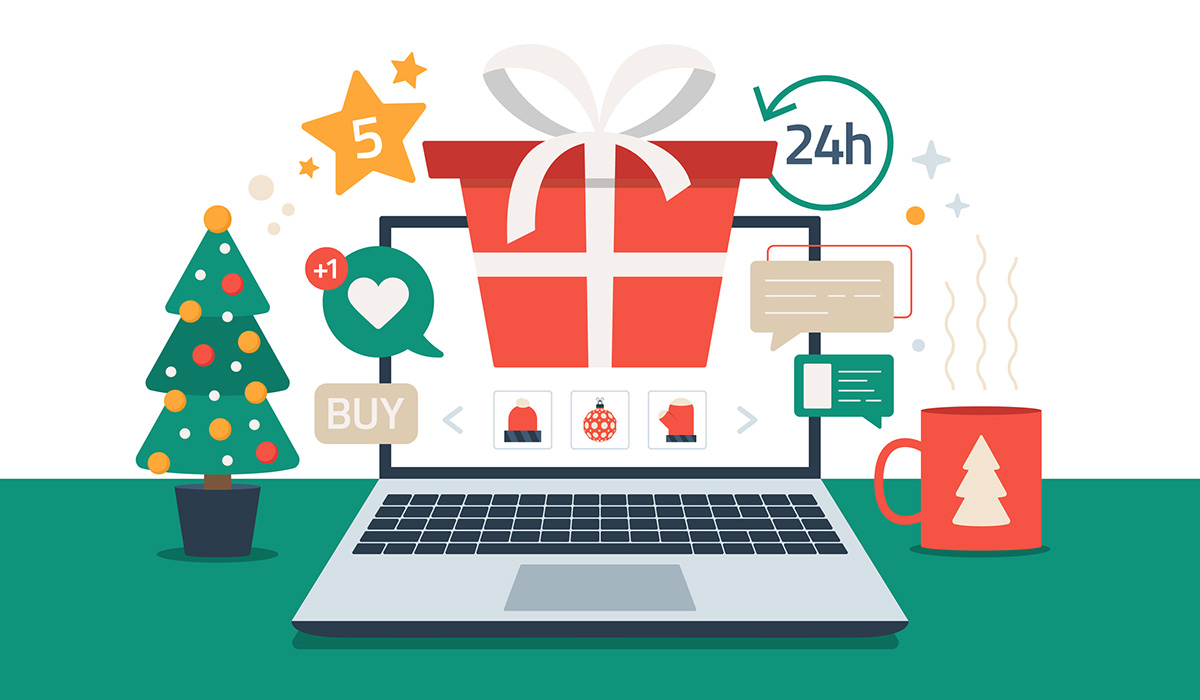 4. Packaging
Your packaging will sell your products before your content does. While doing festive marketing, you have to package the products to reflect the festive season. When making deliveries, the product's packaging will attract your customers and make them want to return.
Remember that you will still need your customers back after the festivities; therefore, the tone you set matters. Setting a festive tone and mood will attract more customers to your page. As people shop for Christmas and New Year, they are quickly drawn to websites that reflect the season's theme.
Consider changing the theme on your website so that everyone visiting it knows that you have a festive promotion going on. Your theme should be easy to read at a glance. The social media tools can assist you in updating your social media images and align them to the mood of Christmas and New Year's Eve. Ensure that you caption the photos that you post with the ongoing promotion.
5. Stay in touch
It is during festive periods that your customers need to hear from you. They need to know that you remember them and still hold them dearly. It is essential to send them "Thank You" messages appreciating them for being brand loyal customers. From there, you can pick up a conversation with them on any social media to inform them of the available offers. Invite them to check them out from your website and give you their views.
Establishing customer relations will move your business to a reputable level. Remember that communication with your customers means a lot to them. You, therefore, have to maintain it, or you risk losing the customers. Communication is now more efficient and attainable for any business type and size.
Increasing sales is a goal for any business. There are many tips to boost your sales, and the first one is to enhance your marketing strategy. To improve your sales, you have to go a step further. Do not hold to your comfort zone and expect different results.
Wrapping It Up
With Christmas and New Year's Eve, make sure you follow the above-mentioned strategies and risk a step outside your comfort zone to help your sales multiply. 
Keep your customers informed about existing discounts before the holiday season hits the market with Konnect Insights, a great omnichannel customer experience suite that helps brands stay in touch with their customers, prospects, competitors & maintain their online presence. With it, you can enhance your festive marketing – publishing your content, social listening, and analyzing the market trends, among other things. Have a happy holiday sales season!
Tags: Festive Marketing, Festive Marketing Strategy, Festive Msrketing Strategies, Marketing strategy