Reading Time:
7
minutes
What exactly is CX?
A customer experience generally discusses the totality of a company's offering. It covers the quality of customer service and the advertising, branding, engagement, and usability of the services. In the long run, the global event across time comprises multiple interconnected components.

Customers are more likely to trust companies with a strong track record of after-sale services. Better customer experiences enable better customer engagement. It will keep clients, but it will also allow for the acquisition of new ones. With an investment in customer experience, we will be cultivating customer trust. 
What exactly is user experience (UX)?
The user experience represents the thoughts, emotions, and perceptions that an end-user has when participating in a certain transaction. It represents the user's final thoughts, emotions, and perceptions while participating in a particular transaction. The term "User Experience" is frequently used to describe the branding, design, usability, and functionality processes. It covers topics such as filling out and submitting a form, purchasing an item and configuring an electronic device.
An effective user experience focuses on the customer's well-being while using a particular product. It brings up the identity and focuses on branding as a whole. For example, when you buy a Starbucks coffee, you join a club of people investing in the identity of premium products. User experience is an essential component of helping businesses grow in the right direction.
How do CX and UX work together?
The user experience is a critical component of the customer experience. The two disciplines may work together in various ways. The customer experience (CX) and user experience (UX) are concerned with the amount of pleasure a consumer feels while dealing with a firm; both pay attention to different aspects of the total customer journey.
Customers who are dissatisfied with a product are less likely to have a positive opinion of the organization. And conversely, if a customer is dissatisfied with a business's marketing or purchasing procedures, there is a strong probability that they will not even have the opportunity or want to contact a service or product supplied by that company in the future. Understanding the critical link between customer experience and user experience may benefit a company's overall performance and increase its bottom line. It is no longer sufficient for a company to have a reliable, simple-to-use product.
Forrester Research, a leading business consulting and analytics organization, discovered that consumers are more likely to spend more when they have an excellent lifetime connection with a company and an outstanding product. It focuses on paying close attention to client feedback and how they assess their whole experience with the product, whether they purchased it, contacted customer service, or even terminated their usage of it. To counter this argument, having a visually beautiful or well-marketed brand is also not sufficient if people cannot figure out how to use the services or products they are delivering.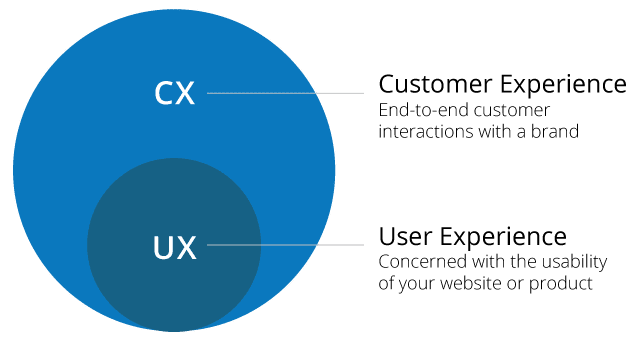 The CX and UX sectors are so interconnected that many firms are trying to recruit individuals capable of working in both areas of design at the same time. It is more probable that a customer experience designer can consider customers' complaints about their experience using a specific product. It would boost overall customer satisfaction in a way it never had before.
A well-versed user experience designer will better be able to cater to the asked services. They can put better efforts into the consumers' buying behaviors and customer service requirements. It may often lead to a better interface or product. In either sector, having a working knowledge of the other may be incredibly advantageous in any design job.
Why is CX different from UX? 
User experience (UX) is a component of customer experience (CX). There are some significant distinctions to consider—particularly if you're deciding which profession to pursue a career in or how to enhance your already well-seasoned design talents. We've broken out the most significant distinctions in emphasis and daily tasks, key performance indicators, typical customer base, and target audiences on this page.
CX versus UX: Differences in focus and day-to-day duties 
User experience designers are primarily concerned with a user's engagement with a specific product, while customer experience designers are concerned with the consumer's relationship with the company. Note that the "user" that UX designers are researching is not necessarily the customer or the buyer. Consider the case of a CEO who purchases a certain piece of software for his workers to connect with and utilise regularly. A CX designer would consider the CEO's research and purchasing experience with the software. Still, a UX designer would pay more attention to how the workers interact with the product itself.
Metrics for Customer Experience vs. User Experience
CX designers utilize different metrics in comparison to UX designers. The metrics help in calculating the performance. And they are considerably different from UX designers. The key metrics in use by UX designers mark a different field. Customer experience specialists often examine how consumers rank their entire experience with a firm in their work. The key metrics are in charge of determining the success rate of online businesses.
Customer experience professionals use churn and retention rates to acquire and value customers' total service expenditure. We can measure and compare the time spent on customers using metrics such as Customer Lifetime Value (CLV) and Customer Effort Score (CES).
Most of these tests are used to gauge customer satisfaction and consumer loyalty. On the other hand, UX designers use metrics that evaluate the usability of a product and how people assess their overall experience while engaging with it. They are often looking at app store ratings, evaluating usability testing findings, and taking notes on how users describe their experience using a product or service, to name a few examples.
Client experience vs User experience: client base and target audience
The phrase "customer experience design" is still relatively new and is more often associated with service-related businesses. CX designers are frequently found in retail and hospitality enterprises, among other places.
UXers are often hired by companies that need to create or redesign a digital product, such as a website or an app. People with buying power are often the target audience for customer experience professionals, but those using the service or product get the most attention from UX designers.
How to improve
Even though there are some distinctions between customer experience and user experience, the two disciplines are only likely to become more closely aligned as technology gets more integrated into our daily lives. Consider the whole client ecosystem, rather than just the app or website you are working on, to be on the cutting edge as a user experience designer.
Take a step forward and prepare yourself for the inevitable convergence of customer experience and user experience by thinking of yourself as an "experience manager" rather than just thinking about the user. Finally, it doesn't matter what you name yourself as long as you give a positive experience for anybody who comes into contact with your product. A collaborative effort amongst all parts of an organization is required to guarantee that all consumer contact points are evaluated for friction, optimized, and, most importantly, above and beyond what rivals give.
Advantages 
The Many Advantages of Learning UX Design: You'll get more than design skills by studying UX design;
✅   You can make a difference in someone's life.
✅   You will be the driving force behind the expansion of the company.
✅   You will get fresh and unbiased opinions about the products.
✅   You will encourage the branding of the product in the market.
✅   You will be working with cutting-edge technology.
✅   Your earning potential will grow as a result of the work.
Customer Experience Offers Several Significant Benefits:
✅   Increase in the number of new customers.
✅   Customer engagement that is of higher quality.
✅   Increased customer conversions are a good thing.
✅   Service and marketing costs are being reduced.
✅   Crisis management has been improved.
✅   It provides a lot of growth opportunities.
✅   Increased customer loyalty and retention as a result of the marketing campaign.
Disadvantages 
User experiences include several drawbacks, including a lack of end-user control over interruptions.
✅   The prototypes' security is at risk.
✅   In-person partnerships are missing their substance.
✅   It requires more involvement from the developer, which may increase the overall cost.
✅   It will be pricey in the long run.
✅   Dependent on the participants' willingness to participate in the service.
Customer experiences have several drawbacks as well:
✅   Post-sale services often increase the overall cost.
✅   Staff salaries are high due to the hiring of professionals in the sector.
✅   Increase expenses for employee training.
✅   Every customer is different, and the quality of service must cater to their needs.
✅   There is a high potential for calculated risk over time.
✅   Many responsibilities may sometimes be stressful to carry out. 
Customer and user experience go hand in hand. Businesses often forget that well-functioning and optimization are only possible via effective UX and CX. The level of services offered in the respective fields can decide customer acquisition and retention. It is high time that businesses today understood the interoperability of both disciplines.
There is a lot to learn in the user experience and customer experience fields, and it is common to feel like you don't know what you're doing at times. There is often a scarcity of designers, and your abilities and attention may be stretched thinly over several projects.
Tags: CRM, customer analytics, customer care, customer engagement, customer relationship, customer relationship management, Customer Service, customer support, cutsomer experience, Marketing, Social Media, Social Media Marketing, user experience