Reading Time:
6
minutes
Starting a new project involves many steps – from negotiating a proposal and contract with your client to signing a deal. Once all this is in place, it's time to put the team together to work on the project.
But wait, we're getting ahead of ourselves.
Imagine this scenario – you managed to get an important new client after a lot of negotiation, but your company doesn't have a proper procedure in place for onboarding them. This might make the client think of you as unprofessional. On the other hand, if you understand the client's strategy, uncover the reason for them hiring you, and set the right expectations, the journey with your client will move much smoother.
A lot of hard work is involved in properly onboarding a new client. It's important not to overlook this process because onboarding is an integral step in setting client expectations, and project deadlines and creating a roadmap for the rest of the project. Instead of ignoring this or undertaking the process in haste, companies need to lay down specific steps or a workflow to mitigate challenges in onboarding a new client. After all, you don't want to lose out when you gain new customers.
Creating an outline and asking the right questions is all part of onboarding a new client. We've put together some best practices you should follow to onboard a new client the right way and ultimately ensure the client has a positive experience working with your company and team.

Why Is It Important to Onboard Clients Correctly?
If we haven't stressed it enough already, client onboarding is very critical. How you onboard a client directly reflects the value of your company and its products and services.
Onboarding helps:
Understand clients better

:

The onboarding process involves understanding your client's needs and requirements. Understand what the client wants to achieve with your product or service or what objective they are looking for. This will help you serve their pain points better.

Retain clients

:

Simply put, happy clients, stay. If your onboarding process is done well, clients will demand your services more and remain loyal to you.

Grow efficiently

:

Onboarding is a continuous process; once your onboarding process is streamlined, it becomes easier to absorb new clients and gain new customers, allowing the company to grow seamlessly and efficiently.
Best Practices to Onboard Clients
Schedule a Meeting and Specify Needs 
While the age of digital meetings is in vogue, it sets a great impression if you meet your client in person, especially for the first few meetings. A physical meeting allows you to understand your client and helps them gain trust in your company. If an in-person meeting is tough, schedule a virtual meeting – but don't stop at sending out a meeting link. Organize a meeting agenda and share points to be discussed before the meeting, so your client knows you are prepared.
During the scheduled meeting, focus on the client's needs, review the details of the project, check in with the client with your questions, or ask for specific responses to clarify any open points in the project. Give the client an overview of the team involved in the project and who the point of contact is. 
Example: Before onboarding a new client, an interior design company checks in with the client to understand their expectations for the project. The first few meetings are scheduled to understand their requirements, project deadlines, and whom they can get in touch with to resolve queries.
Review the Responsibilities
Once the initial queries are resolved, it's time to review the project's goals. You must lay down the milestones at this stage and walk the client through the process. Talk to the client about the involvement of each team member and how they will help the client at various stages of the project. Instead of sugar-coating, try to remain transparent at this stage and do not oversell your services. This can lead to miscommunication, so try to set correct expectations to keep both parties happy.
Example: When engaging with a software company, clients need to be guided through the onboarding process so that the company can understand their objectives, the numbers they wish to achieve, and what their expectations should be. 
Discuss the Desired Outcomes
Client onboarding meetings give companies a chance to learn about their clients, their processes, and their manner of operations. If you are onboarding a new client with a project that you may have limited experience in, take the time to talk to the client and build a rapport about what success means for both of you. Ask them about their objectives and goals and how they feel you can work together to achieve those goals. Let them understand how you plan to succeed with the project and whether that benefits them.
Example: A content writing company delivered work to a client without a proper onboarding process – they did not take adequate time to understand the desired outcome, leading to a rewrite of the entire project. This led to a misunderstanding of the goals the client was hoping to achieve, wasting resources.
Adopt Software 
Does your client use a particular piece of software that you may need to access? Do you use a particular software that requires your client to be on board with it? To create a goal-oriented onboarding process, use reliable software that lets you easily interact with your client, discuss queries, and exchange information.
Example: Browse through excellent client onboarding software to streamline and automate the onboarding process. If you are a one-person company or operate with a small team, it may not be easy to manually onboard clients – especially if you don't have the time or bandwidth. Rely on good software to do the job for you, and leave a professional impression on your client.  
Anticipate the Challenges
Do you have a plan in place regarding communicating progress to your client? Are you aligned with their expectations? Create a checklist of deliverables or responsibilities for both your client and yourself to discuss from time to time. 
Check with your client for access to documents or information you may need for the project. Finally, walk the client and your team through the project timeline to ensure all parties are on the same page.
Example: Consider a digital marketing company onboarding a new client to help them undergo a digital transformation. One major challenge here is helping the client integrate technology and tools in a way that doesn't hamper their traditional legacy – anticipate questions like to what extent does the client want to go digital? How much information and documentation needs to go online? What kind of cyber safety measures do they need? Do they require a social media presence?
Check with Your Client from Time to Time 
Keep in touch with your client regularly; set up calls or check in via emails or interactive forms to let them know you're on top of the project. 
Example: Companies that regularly set up client calls tend to have better control over the project. This also helps clients release power because they believe your company is hands-on.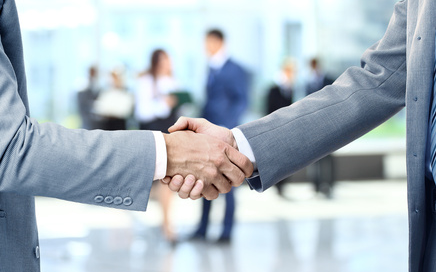 Gauge Feedback
You need to give your client a platform to ask questions – or ask them questions and get their feedback. This helps them understand that you are willing to work through changes or will follow up and call them in the event of queries. After all, every client is available to work hand-in-hand to achieve the desired outcome.
Example: Companies that ask for feedback are typically on the radar regarding client retention as opposed to companies that don't. A software company followed up with its clients and checked in on how well they had adapted to the new software. In addition to following up, this gave them a great reason to build a rapport and landed them another project with the same client.

Conclusion
Once you're abreast of the client onboarding process, carefully pay attention to each step. If you want to give your clients a wonderful onboarding experience, adopt good onboarding software – trust us, it'll be a win-win situation.
Tags: branding, Client Onboarding, customer experience, Customer feedback, Customer Onboarding, Marketing, Marketing Strategies, Onboarding Practices