Reading Time:
5
minutes
Social media is a great way for people to interact and connect. Online marketing has made it easier to do business on social media and get feedback. Most buyers and customers may not reach back to you directly, but they will review your brand on various social media avenues. You need to be updated on what they are saying for a better connection. This will enable you to serve them better. It will also help you know the adjustments you need to make to your brand. As a result, your customers will feel heard and appreciated.
Social Media Listening
Social media listening is a method used to check a company's popularity on social media channels. It helps you to collect data from the different sites, analyze the data and create reports. The reports help your enterprise to rank its performance on social media in comparison to other brands. Social media listening helps you keep in touch with what your clients have to say. It enables companies to find out what prospective customers expect of them. It helps businesses learn from their competitors, and have a better understanding of their offerings. Social listening helps you monitor certain keywords that apply to your business. It also gives an insight into the number of times you have been tagged or mentioned.
The social media listening tools bring together what is said on diverse social media platforms. It is then easier for you to check such insights in one place, which offsets the burden of checking each platform for feedback. The tools narrow down to the keywords and tags important to your enterprise, removing all the irrelevant material that might take your time. In addition, you get the ability to post on all platforms that your customers are just from one dashboard.
Best Enterprise Social Listening Tools
There are many social listening tools in the market. We have sampled out and listed some of the preferred social listening tools available in the market.
1. Keyhole: Keyhole uses hashtags, usernames, mentions. It is specifically used to monitor the actions on YouTube, Instagram, Facebook, and Twitter worldwide. With the global analysis of engagement, you can easily tell where your brand is well known in the world. The social listening tool records the real-time that a post has been made and can also forecast how the engagement with your content will turn out.

2. BuzzSumo: If you are largely on Facebook, BuzzSumo is the best tool. It gives you an insight into the shares and impressions that your content gets on Facebook. You can also know when to post (time and day) according to the number of engagements your post is likely to get. Apart from Facebook, you can use BuzzSumo to connect to your Pinterest, Reddit, Instagram, and Reddit. Konnect Insights offers this tool at no charge, hence the best for beginners.

3. TweetReach: The social listening tool is the best tool to use on Twitter. It can help you analyze the activities on Twitter with the time that a Tweet has gotten the most impressions. You also get to know the top influencers when it comes to your topic of concern, thereby enlarging your social network. TweetReach will unveil the followers who are likely to buy your services hence helping you to target them with the content you create. It is also compatible with other platforms such as Facebook and Instagram.

4. Hubspot: Hubspot gives you timely updates on what is trending on Twitter related to your brand. It ranks among the best social listening tools because it gives you the convenience of planning your work. You can schedule updates and posts on your platforms a month or so before posting.  It is also great as it allows you to post content from any other social listening tool connected to it without necessarily having to log into the platform. If you intend to direct your content to a precise audience, Hubspot will help you.

5. Agorapulse: You would like to get all your social media messages in one place, then Agorapulse is your best social media tool. The listening tool helps you manage all the incoming messages from different social media platforms in one inbox. You can also publish your content and send it out to all the channels with a single click. It analyzes the incoming feedback and chronologically organizes them, making the work easier for you. It is compatible with YouTube, Facebook, Instagram, and Twitter to help you to organize all your profiles from the same location.

6. Digimind Social: Understanding social data is made easier with Digimind Social. The platform helps break down data into information that you can easily understand. This can then help you plan for your enterprise and execute the plan with the given action points. You also gain insight into the best marketing strategy that you can use for your business. The social listening tool collects data from the past, giving you a good starting point to predict the future. The data you collect with Digimind Social is precise and can help you make the best strategic goals for your enterprise.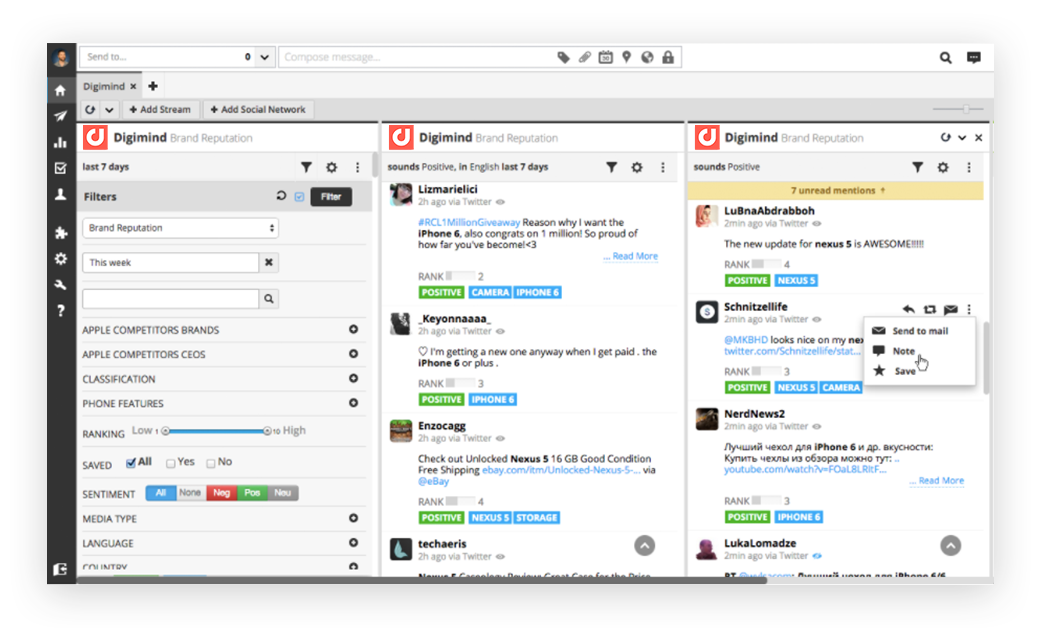 7. Konnect Insights: Konnect Insights is the most sought-after social listening tool. Most of the popular brands such as OPPO, Deloitte, and McDonald's prefer Konnect Insights over the rest of the social listening tools. This is as a result of a number of reasons. One, it has an interface that is user-friendly hence attracting customers. The dashboards that Konnect Insights presents you with some insights into how your enterprise is perceived by customers. It has some of the most advanced features, such as asset libraries that help you to coordinate all your social media activities from one place. Konnect Insights also has a great security wall to protect your private information from being accessed by the public.
Konnect Insights gives you the best platform and best social listening tools that can move your business from one place to another. It makes it possible to do social media campaigns for your products on different social media platforms and get feedback in real-time. You can also publish your content by scheduling it several weeks before actual publishing.
Conclusion
Many customers prefer using a platform with a user-friendly interface. Konnect Insights not only provides you with a user-friendly interface but also makes your enterprise marketing easier and cheaper. It offers you all your enterprise social marketing tools such as social listening, publishing, and analyzing.  You can even use more than one social media listening tool.
Tags: Best Social Listening Tools, Enterprise Listening Tool 2022, Enterprise Listening Tools 2022, Enterprise Social Listening Tool 2022, Enterprise Social Listening Tools, Enterprise Social Listening Tools 2022, Social Listening, Social Listening Tool, Social Listening Tools