Reading Time:
7
minutes
Irrespective of the era, businesses have always strived to deliver the best to build a strong reputation. For the very same reason, they work relentlessly to offer feature-rich products and high-quality services. However, the disheartening fact is that customers thrash brands every now and then. This happens because every individual has certain expectations and wants brands to live up to them and when that doesn't happen, the impact of negative feedback, false rumors tarnish the brand image.
You would be surprised to know the kind of efforts companies put by pushing their limits to gather positive feedback, but prospective customers usually check negative feedback to judge the brand's credibility. Additionally, negative reviews travel rapidly on social networking sites and leave a big dent in the brand's reputation. Sometimes, business failures also do happen.
This is the primary reason why businesses should be serious about online reputation management and take the best course of action to safeguard their brand image. Let's learn what online reputation management is, before driving deep into details:
What does online reputation management mean?
Online reputation management (ORM) comprises all possible activities to prevent negative customer feedback so that brand image is not adversely affected. 
Some of the activities are :
✅  Monitor negative news, false comments, etc. on different websites and social media platforms with the objective of addressing them. 
✅  Have dedicated teams to respond to online negative comments in the best possible way so that netizens searching for products/services get the best impression and make a quick purchase decision. 
✅  Release a public statement to put an end to all the negative stories trending on the media.
Are online reputation management (ORM) and public relations (PR) the same thing?
Got the feeling that Online Reputation Management sounds similar to Public Relations? Well, this is not the case. Let's understand the difference:
The common thread between public relations (PR) and online reputation management (ORM) is that both are customer-centric. Although they both try to show the brand in a good light, different approaches are usually taken to build a positive and strong brand image.
PR firms' work is based on the proactive approach and thus they focus on tasks like running marketing campaigns, developing infallible advertising strategies, etc. In a nutshell, they build a brand image with the help of promotions. On the other hand, online reputation management is based on the reactive approach. Brands keep an eye out for negative content that can damage their image and make the customer acquisition process difficult. 
Another noticeable difference is that maximum companies avoid handling the job of PR, and mostly outsource them to agencies. However, they do ORM with the help of their internal teams comprising of subject matter experts who have in-depth knowledge about their offerings and strengths, which allow them to respond aptly.
Top 5️⃣ Online Reputation Management Strategies
Now, that we know the difference between PR and ORM, let's discuss some efficacious strategies of ORM that you can take into consideration:
1️⃣  Be swift and empathetic 
Whenever customers see that the product is not functioning correctly or missing a crucial feature, they immediately contact the brand and seek a satisfactory resolution/assurance. However, when they don't get a swift response from the brand, they show their frustration by posting negative reviews on social media platforms. In the worst cases, they just break the relationship and join the competitor.
Therefore, it is crucial to be swift while answering customer support queries. As a positive outcome, customers will wait patiently to let you launch the required feature(s) and also drop the idea of sharing a negative review.
2️⃣  Be respectful while addressing negative comments 
Naturally, nobody likes to listen to negative things about themselves, which is why quarrels take place and make the whole situation awful. But it is imperative for brands to understand that if customers are taking time out to write negative comments, there must be something that has annoyed them badly. Therefore, it is advisable to address negative comments with respectful nature so that things can be sorted out calmly.
This kind of situation should not be taken for granted because when customers and brands are openly involved in an argumentative conversation on social media platforms, a message goes to other followers that the brand does not value its customers. It indicates that the manufacturer is always ready to cross the line, instead of solving the issue. Consequently, it discourages followers from doing any business with the brand. 
Simply put, disrespectful behavior makes a double negative impact because it results in poor customer retention and acquisition rate. Therefore, always show utmost respect while addressing negative comments. 
3️⃣  Take bad reviews on your chin
Negative comments of customers should never be taken personally because it is not going to help your business anyway. Thus, you should see each bad review as a second opportunity to retain your customer for long-term benefits.
The main mantra to succeed in online reputation management is to give an explanation if there is a misunderstanding and take bad reviews on your chin when there is a mistake. It will help you diffuse the anger of frustrated customers and set the tone for a meaningful dialogue. 
In addition, bad reviews often shed light on those areas where improvement is due, which means you will have a clear idea of what needs to be fixed to enhance the quality of your products and services. Of course, when a customer sees that you have fixed the issues and taken their feedback seriously, there are likely to edit their bad review and turn it into a good one if you request them politely.
4️⃣  Do SEO like a pro
SEO (Search Engine Optimization) is a crucial part of digital marketing because it helps you gain better rankings on search engines like Google, Bing, Yahoo, etc. And marketers always try to reach the first page for the sake of securing a high CTR. 
According to reports,
"A website that reaches the number one spot is 10 times more likely to get a click as compared to the one placed on the tenth position of the search results"
This fact is enough to encourage companies to run ads for bypassing top websites and place theirs at the number one position. It could be problematic for SMBs, which can't afford the expenses of paid advertisements and only rely on traditional methods to rank on search engines. 
Therefore, it is significant to do SEO in a way that results in better online reputation management. For example, they can encourage happy customers to leave positive reviews on the internet or take the initiative to answer relatable questions on sites like Quora, Reddit, Product Hunt, etc. It can do wonders because when netizens see positive reviews about your company, they are more likely to check out your website than others ranked due to ads. 
5️⃣  Deploy online reputation management software
Undoubtedly, online reputation management is important to keep the brand image unblemished, but doing it manually all the way could be very time-consuming. That's why it is important to bring the right set of tools into your business operation so that tasks related to online reputation management can be handled without breaking a sweat.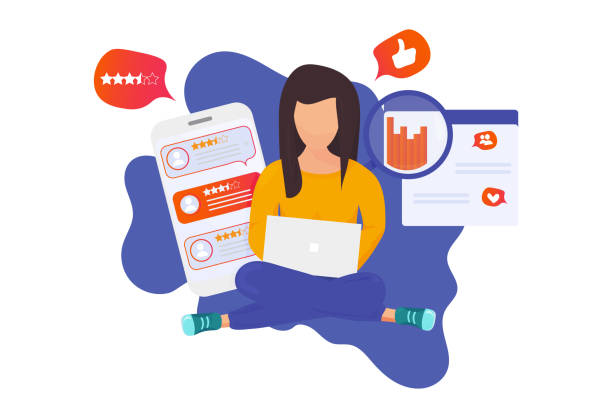 For example, you can deploy online reputation management software to learn about news, brand mentions, etc. with the utmost ease. Of course, that helps you save a significant amount of precious time because you don't have to go through multiple pages to check the negative news about your company and can also avoid the task of going through multiple social media platforms to understand what kind of image your brand is having in the customers' mind.
In case you are seeking an all-in-one tool that can help you achieve customer delight and facilitate online reputation management, you can give Konnect Insights a try.
Summing up
Reputation is something that was, is, and will always be a deciding factor whether your business will beat the competition or not in terms of acquiring new customers and making high sales. The reason being potential customers do not mind paying extra bucks because they just want to be a part of a reliable company that can offer high-quality products and timely support services. This is a primary reason why multinational companies make sure that their brand value never drops because they know that the sales of their premium products are not only dependent on specifications but also on the brand image that customers are having in their minds.
With the help of this article, we have explained what online reputation management is, why it should be prioritized, and what strategies should be used to achieve better results. This article is meant for businesses of all sizes, which is why it comprises cost-effective strategies. 
However, if money is not the problem for your organization, you can invest in referral marketing, affiliate programs, etc. because positive WOMM (word-of-mouth marketing) can really help you strengthen your brand image and make the customer acquisition process easier than ever.

In case you want to read more informative articles like this one, browse through our blog section right away!
Tags: Online Reputation Management, online reputation management software, Online Reputation Management Strategies, ORM, ORM Software, ORM Strategies, ORM Tool 2022