Reading Time:
4
minutes
What is your company's most vital asset? You guessed it right: it's customers. You need to make sure you're adequately dealing with your customers. No matter how awesome you think your product is or how skilled you think your team is, the most important thing is that the customers should remember how memorable, competent, and knowledgeable your service was.
According to the Customer Experience Report by Zendesk, researchers found that the most common reason customers abandoned brands and took their money back was due to poor, impersonal, or frustrating customer service experience. Sometimes it can be challenging to handle difficult customers professionally but instead of fearing an irate customer, use the situation to improve your service and build a better customer relationship.
We have compiled eight useful customer service tips to help you tackle unhappy customers – as graciously and successfully as possible.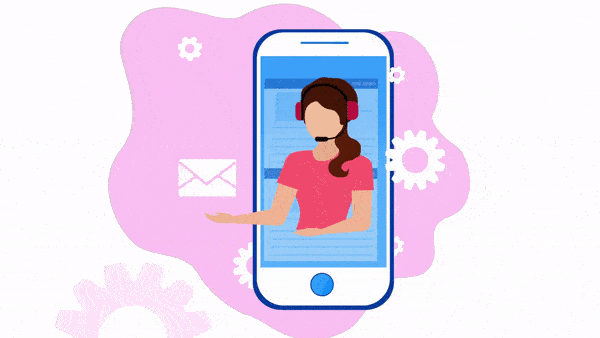 Let's get started!
1.   Avoid Challenging Customer's Complaints
It's natural to want to tell a customer they're wrong when you know they're acting on incorrect information. However, this might not help you to de-escalate a customer from getting even angrier while lodging a complaint. 
Instead of challenging the customer's complaint, see it as an opportunity to turn a negative experience into a positive customer experience. 
The key is to empathize with them and reflect their feelings by saying things like, "Thank you for bringing this to our attention," "I completely understand what you're saying," or "I apologize for the inconvenience, and I can see why that is upsetting.
Most of the time, acknowledging the mistake is a much better approach than challenging their complaint. 
2.   Don't Tell Them to 'Calm Down'
This one phrase is enough to elicit anger in a customer. Telling an already upset customer to calm down is like adding fuel to the fire, and you definitely don't want that. This is the same thing as telling them, "I don't see what the big deal is" or "I don't like the way you're making me feel."
The best approach you can have in a tense situation is just to allow the customer to get it all out, all the anxieties and problems.
Listen carefully to all that they want to say and show empathy with phrases like "I can totally understand how that could be frustrating for you" or "I am sorry to hear that you are having a problem."
Your receptiveness can help the conversation change gears and get on a better foot. Eventually, they'll understand and calm down on their own and prepare themselves to listen to you.
3.   Don't Leave Your Customers with a Flat-out "No"
No business can always say yes to their customers every time. But a straight "no" can come off as a lack of empathy for your customer's situation. 
Instead, you should effectively inform and educate them on your reasons to bring their expectations in line. It's an easier pill for your customer to swallow if you can explain why you're saying no. Your customer may take this positively, or they may not.
However, no matter their response, if you tell the truth, you will solve a lot of problems and improve your customer support process. Additionally, it helps to follow up your explanation with some problem-solving ideas and alternative options that may help the customer.
4.   Avoid Putting Them on Hold
Customers don't like it when you put them on hold without asking them first, and they tend to hang up. It is very unpleasant for a customer to go through the wearying process of contacting customer care, only to experience a lack of accountability on the customer service agent's end.
Having to wait on hold for more than two minutes or multiple times in one call can increase customers' impatience and make them less likely to have a positive experience with your firm, and harm long-term brand loyalty.
If you have a customer to hold, explain why you're putting them on hold and try to provide a reasonable estimate for how long the hold will last. The better you can manage your hold times, the happier your customers will be. 
5. Avoid Vocal Disfluency
When you are communicating with customers, you need to speak clearly without too many crutch words. 
Phrases like "um," "ah," "well," and "erm" are vocal disfluencies that we may use without even realizing it. 
If you're excessively using these fillers when you're relaying troubleshooting steps, they may project a lack of confidence, or customers might not trust the information you're giving them is accurate. 
Like crutch words, pauses give you a chance to figure out what to say next. However, a pause can make you sound confident and in control.
6. Don't leave them hanging
Many customer complaints can't be resolved right away, but failure to respond might lead the customer to believe that they're not important to your company and you don't care about them.
Hence, it is important that you address and follow-up customer complaints to ensure they are entirely satisfied and happy with the solution offered even after resolving the complaint.
7. Avoid over-automation
Don't completely erase all direct and personalized contact with the customer. 
For example, customers who are frustrated or angry are best handled by a customer service agent.
Scripted automated responses for complex issues may convey to the customer that your organization does not care about them.
Thus, use automation only where it serves the customer journey and avoid automating big independent processes and tasks.
8. Don't make the customer go round in circles
Customers feel slighted when you transfer their call around too many times. Also, transferred calls lead to a frustrating customer experience as they've to repeat the information to multiple service agents. 
So, make sure you use customer information for routing calls to the correct department in the first place.
Using these helpful tips on how not to respond to customers will help you find your way through many sticky situations. Good luck!
Tags: Customer, customer experience, Customer Response Management, Customer Service