Reading Time:
7
minutes
The integration of marketing automation into CRM benefits sellers to optimize marketing efforts, develop efficient campaigns, and achieve higher CXM through increased client engagement.
Marketing Automation in CRM
Currently, about 51% of companies are using marketing automation technology, and more than half of B2B companies (58%) plan to adopt the shift.
If your company continues to grow over the years with increasing numbers of leads and clients, now is the time for Social CRM and marketing automation. Many companies launch and maintain CRM solutions. Then, marketing automation development and integration will be the next logical step toward integrating your marketing efforts into a convenient platform for employees. 

What is Marketing Automation?
Marketing automation is essential for analyzing, optimizing, and automating critical marketing tasks and workflows, such as lead generation, segmentation, capture and support, relationships, and account-based marketing. Marketing automation is mainly used to speed up processes, complete tedious tasks, and create personalized, targeted ads for leads.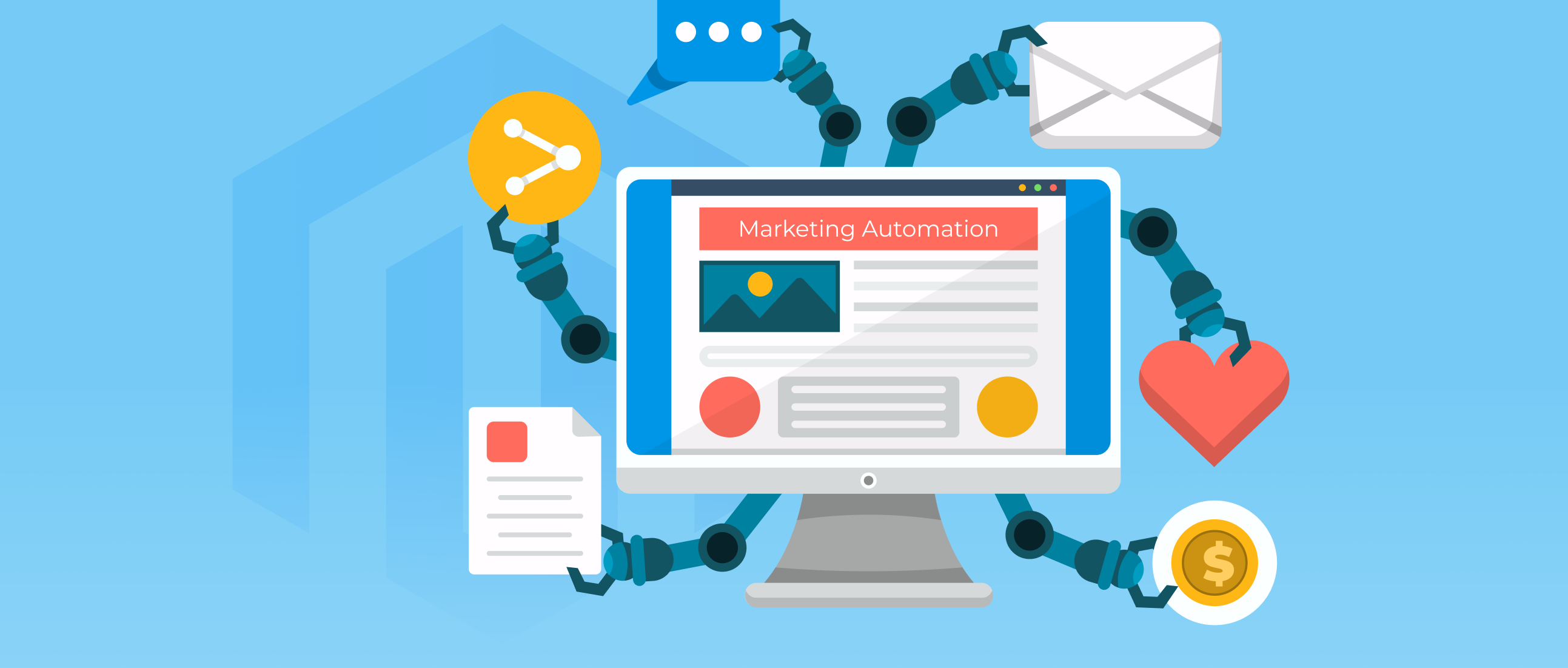 Companies need marketing automation to enable them with targeted content to improve customer service. Marketing automation makes it easy to track productivity and optimize customer interaction. Adoption helps improve the company's workflow and convert leads into potential customers. This frees up your business resources, saving you time and money and enabling you to focus on more effective targeting strategies. 
Read Also – What're The Next Trends to Watch Out In Automation?
Types of Marketing Automation
Marketing Analysis Automation
Provides more control over marketing campaigns, including online and social media. In email campaigns, for example, you can see delivery, click-through, opening, bounce rate, etc. And you can review statistics on social media, blogs, and ads, track performance, and close the gap.
Email Automation
Affects internal and external marketing efforts. Externally, sending campaigns via emails based on triggers and internally disposing of boring tasks contributes to a smoother workflow. Template-based dynamic email features using point-and-click functionality.
Landing Page Automation
Brings effective conversion rates by adding searchable sales that are likely to complete the deal. Marketers can use pre-designed layouts to customize for branding by adding graphics, interactive messages, and CTAs.
Webform automation
Web forms are important for attracting visitors to action. Marketers use custom pre-designed dynamic web forms for branding with analytics and report features to change policy.
Social Media Automation
Tracking the scheduling and Social publishing of cross-posting and conversation content.
Blog Automation
Allows blog scheduling and publishing to websites automatically and sharing on your social media accounts. Built-in analytics can show how the articles work and any depth to improve content strategy.
About CRM
CRM, or Customer Relationship Management System is an application that focuses on the day-to-day sales activities of your sales team. CRM stores client data, such as how long they've been with you, their purchase history, and phone calls.
The CRM system stores customer data that are centrally shareable by flagging any leads in the sales funnel, allowing them to send targeted messages to drive conversions. CRM facilitates customer relationships, from marketing to client interactions, across contacts and sales, agent performance, and the entire sales funnel.
You can use CRM to optimize client interaction, enhance sales and customer experience, and upgrade operations. This helps drive efficient sales processes that accelerate leads through sales funnels. Centralized sales progress across the organization gives management improved visibility and more accurate forecasting in the pipeline.
CRM's capabilities are developed to capture prospects for your business, nurture them through automation, and improve your customer relationships.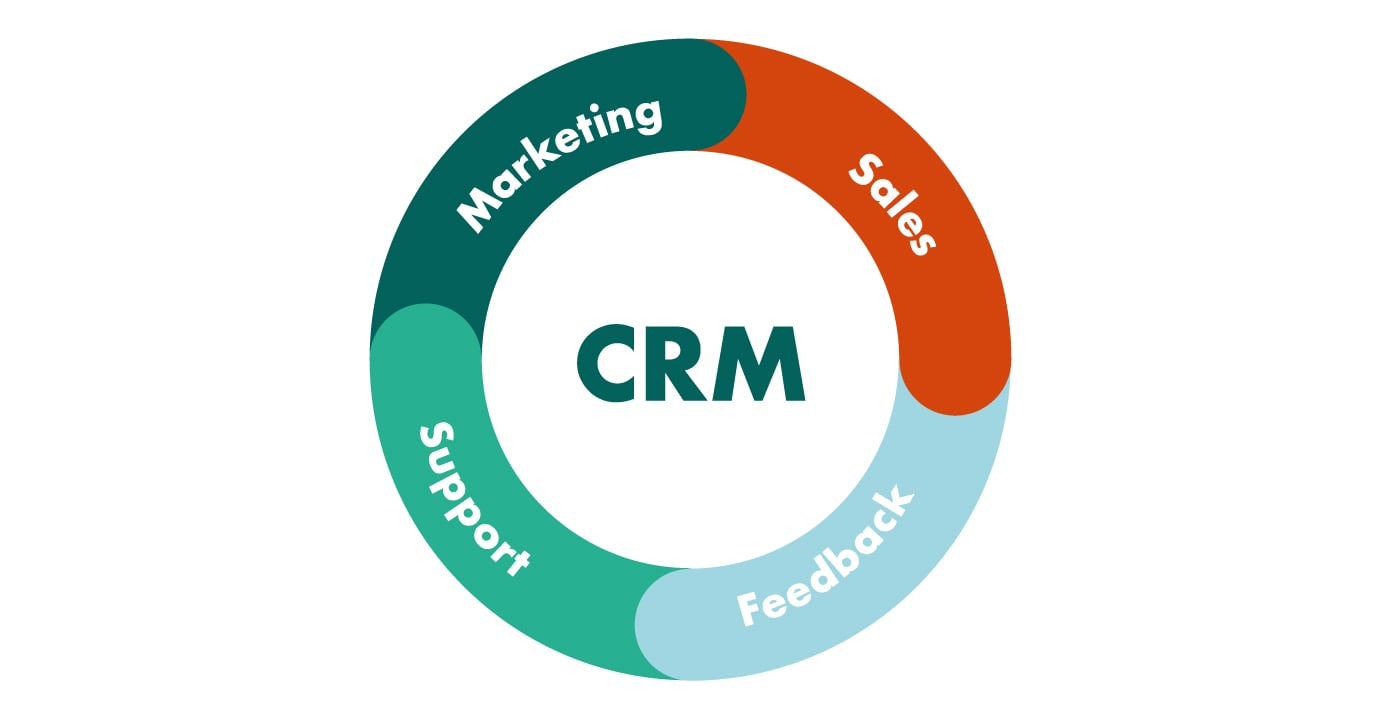 CRM vs. Marketing Automation
Each tool helps you meet the needs of specific customers and build relationships with customers at different stages of the shopping journey. CRM is usually a full-fledged sales and marketing automation software.
| | |
| --- | --- |
| CRM | Marketing Automation |
| Create and develop relationships with customers. | Draws potential customers through various marketing channels. |
| Targets the marketing or sales needs of potential customers. | Besides site visitors, targets, leads, and trials. |
| Help brands with sales funnels, contact and prospect automation, and management. | Intended for automating marketing activities including campaign management, communications management, and client segmentation. |
| Used by sales teams and customer service. | Used only by the marketing department. |
| Gives insight into how customers interact with your brand. | Gives insights into how marketing activities and ventures are working. |
 Customer Experience Management (CXM) is the business practice of managing each customer experience across all touchpoints, measured for your entire organization. In today's digital world, when customers have a variety of channels and touchpoints to reach you, it's important to provide a customer-first experience in every interaction. The CXM Platform is an extension of your CRM system, which maps the entire journey of your customers, including your business, sales, marketing, and customer support teams. 
Read Also – 7 Tips To Create A Great Customer Experience
Interfacing Marketing Automation and CRM
Although CRM software and marketing automation look alike, they offer specific features and offer a variety of things. When used in aggregation, the fusion works more efficiently together.
CRM automation helps automate sales and customer service. This allows teams to control and operate their interactions with existing and potential customers. CRM automation enables sales staff to facilitate various complex tasks in customer sourcing and management. These tasks contain daily activities, such as data entry, contact update and client data, scheduling your calendar, and updating leads.
The development of marketing automation in CRM includes:
✅   Create and personalize content based on client interaction history.
✅   Develop automated communications for customers and prospects using "conveyors" – a sequence of actions going through your sales funnel
✅   Automate complex tasks to save time so that marketers can focus on high-level activities such as customer and potential interaction.

Implementation Strategies
The approach to marketing automation depends on what tools you use and for what purposes. The right strategy always aims to convert leads using CRM data. Regardless of any marketing automation implementation strategy, the following best practices are recommended for best results:
Get to know your clients
You can only develop personalized marketing automation when you can gather information about your clients. To better understand your prospects, you need to work on building buyers' personalities and helping them fit into the marketing automation workflow as needed.
Know your customer journey
The main rules in marketing expect you to meet your prospectus wherever they are. You need to keep in mind the client's journey in terms of the sales cycle. A well-researched shopping trip should be considered in marketing automation.
Do regular reviews
Since automation does not require user intervention, it is not a one-stop static development. Marketing automation needs to be aligned with your company's policies, product categories, and customers. Periodic reviews of your marketing automation workflow can help you find the best way to tune automation to suit your business. 

Benefits of marketing automation for CRM
When CRM and Marketing Automation Integration work together, there is an accurate encapsulation of why they are successful and, better yet — at least in terms of taking advantage of your data. Integration helps deepen the collaboration of marketing and sales – "tag teams" have a better understanding of customer behavior, improve lead quality, and save resources.
Marketing teams benefit from marketing automation to design and execute marketing campaigns that attract and increase more qualified leads with fewer resources.
Working with CRM sales and marketing automation benefits business values. Some of the major benefits are highlighted below:
Sets appropriate preferences
Marketing automation and CRM integration help companies organize and facilitate customer acquisition by combining critical operations and information. It provides marketing and sales teams with in-depth insights into the buying journey, helping them to actively prioritize their resources to avoid spending too much on bad leads.

Sets the communication right
Marketing automation ensures consistent messaging across the board. Most of the time, sales and marketing look at different objectives, interact with potential and existing customers, use different buzzwords or try to solve different pain points. Marketing automation and CRM integration increase visibility by providing series and targeted messaging to different audiences and individuals. If there is a change in the message, both teams can review that change and make adjustments accordingly.

Sets the data correctly
The overall information in the mailing list often changes business objectives differently for sales and marketing efforts. Data cleaning plays an important role in setting up activities. Clean Data drives any kind of sales strategy because you can plan and execute new marketing campaigns with reasonable accuracy and efficiency.

Captures key patterns
Key patterns and trends are more likely to be lost when data is unattended. Marketing automation and CRM software always project the data needed to make informed decisions about your sales activities, customer service, and product offerings. The integration enables you to lead parenting by making important connections. You get more clarity about which customers are willing to improve or regulate their service offerings.

Converts lead to clients
The approach of CRM marketing automation is to facilitate your sales and marketing teams to convert more leads and then guide these leads and existing customers through extended sales deals for increased revenue. When integrated, these two systems are automated and synchronized with each other. Marketing and sales teams can access the available data and interact with your product website to better understand the pattern and depth of potential visitors and customers and allow you to work strategically on content marketing.

Summary
Marketing automation and CRM are the most efficient marketing tools. Producing and delivering compelling content is a great way to engage leads. You will certainly get efficient ways to achieve your sales goals using any of these platforms. And once you have both tools installed, uniting them into one unified platform will take your business to the next level of success.
Tags: Automation, Communication, CRM, customer analytics, customer relationship, customer relationship management, Email Marketing, Marketing, Marketing Automation, marketing communication, Sales Automation, Social Media, Social Media Marketing