Reading Time:
3
minutes
Customers are at the core of every decision companies make. Understanding them is essential for effective marketing and communication. But managing customer relationships and ensuring two-way communication for better growth is challenging. 
Social CRM is a technique that enhances customer relationships and helps businesses with effective management.
What Is Social CRM?
Social CRM is a customer relationship management process. It combines various social media channels to enhance the effectiveness of social listening. In this way, it helps you understand your customers better and engage more meaningfully with them. 
The right social CRM provides you with rich insights into your customer base, letting you understand your customers' sentiments about your business and send messages accordingly. Additionally, it helps you master the skill of customer service, which is crucial for both marketing and sales. 
Social CRM can help you strategically improve your analytics and insights, instead of struggling to tap into different channels and building your insights from several unorganized conversations.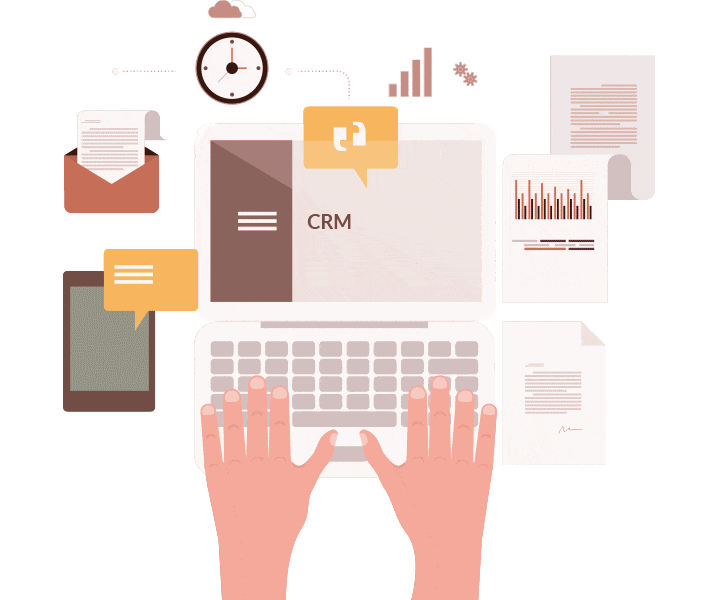 Why Do You Need Social CRM?
You cannot ignore the importance of online models in today's time and age. A proper means to enhance online data management and improve overall social conversations helps you gain more customers. 
Apart from knowing your customers, you can manage your online conversations better with CRM. It helps you create more satisfied and happy customers: the driving force behind every business. Let's take you through some of the benefits of using social CRM for your business. 
Better Marketing Strategies
When you understand your customers better, it becomes easier for you to market your product to them. This rings true specifically for social media customers. When you can connect, communicate, and make yourself available immediately to them, you increase your authenticity.
With every step towards more robust marketing, you need to make your social media channels more efficient. Engaging the right people with the right conversations through a suitable medium is crucial. 
When you start using social CRM, you get to know what issues customers face. You are also more able to provide helpful answers in real-time. Further, it will also help you understand how your social media customers react to what you post.
CRM is how you understand the aspects and information related to your customers – what they are looking for, how they make purchase decisions, etc. You get to nurture your customer base accordingly.
Ultimately, investing your time and energy in an effective social CRM will help you know what your customers want and offer them appropriate products. It will also help you analyze and understand how you can customize your brand to match your customer needs. Eventually, this will impact your profits and conversion rate. 
Cost-effective Relationship Model
Investing in social CRM is cost-effective, as social channels are less expensive and more profitable. Besides understanding your customers, it also gives you a real-time view of how they connect and collaborate. Through this, you can keep track of their conversations/mentions, and enhance the clickthrough rates and other details through keywords.
By mining this data, you will know when you should post to build a community of loyal, active followers. Additionally, you can clearly understand how customers react here, as compared to traditional models.
Social CRM makes your customers' needs apparent, giving you clarity about how to maximize business outcomes. It is an effective and efficient model to understand perceptions and drive more interactions with your brand. 
Boosts Internal Communication
Social CRM can also help build a community within your business. Thus, you can engage your employees as well as your customers. It will give you more power to drive collaborations and streamline processes. With easier interactions, you can identify and create products that every customer will love.
An excellent social CRM will also enable better transparency and more effective organizational collaboration and processes. 
Segmentation is the key to targeted and relevant messaging, letting you achieve the end outcome for your business: more customers and conversions.
However, this becomes difficult if you are unable to identify and understand your customers. Incorporating social CRM in your organization helps you truly comprehend your customers and make the right decisions. You can segment your customers into active, new, etc., and tend to them accordingly. 
Conclusion
There are several social CRMs available in the market. Konnect Insights has developed an advanced tool to ease your tasks of Social Listening, Online Reputation, Social CRM, Social Analytics, Publishing, Crisis Management, among others. Oktopost, Hootsuite, Social Pilot, etc., are some other tools that help you accomplish your social media goals.
The power of social media cannot be ignored. Harnessing it masterfully – whether you are a small or large business, regardless of your business or networking intent – can promote your business for a considerably lower financial investment. With the right CRM for social media analytics and drastically improved social media listening, you can effectively provide your customers with the services and care they deserve.
Tags: Marketing ROI, Marketing strategy, Social CRM, Social CRM tool